2017 Study: Customer Conversations - The State of UK Retail Digital Customer Experience
UK retail customer experience failing to improve, with nearly 50% of queries left unanswered
Despite 93% of consumers revealing they are more likely to buy if they receive a positive customer experience, UK retailers are struggling to deliver adequate, consistent service new research suggests. Companies were unable to answer 46% of customer queries received on email, the web, Twitter and Facebook, with only 7.5% responding on all four channels - and a mere 2.5% providing a consistent, accurate answer across all of them.
These are the headline findings of the 2017 Eptica Retail Conversation Study, which surveyed 40 leading UK retailers in the fashion, consumer electronics, food & drink and entertainment sectors on the experience they deliver by analysing their response to routine questions asked via the web, email, social media and chat. Repeating research carried out since 2011, the study also surveyed 1,000 consumers to find out how satisfied they were with the retail experience.
We invite you to download your copy of the study which includes the full findings of how the Retail sector performed, along with recommendations to improve and address the key challenges of customer experience.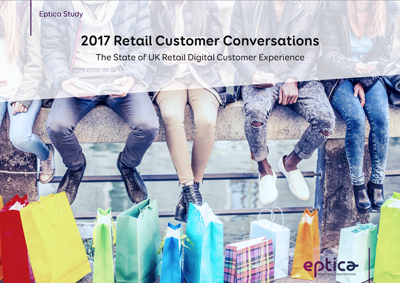 Download the document
Please take a few moments to fill the information below.