Meaningful conversations between brands & individuals improve daily life for everyone

2017 Study: Digital Customer Experience

Eptica positioned in the 2017 Gartner Magic Quadrant for the CRM Customer Engagement Center

New Study: The Changing Face of Chat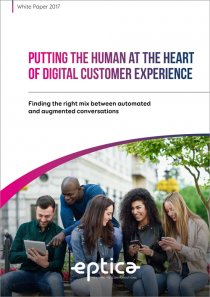 Putting the human at the heart of digital CX
Noted expert on customer experience, Regine Vanheems, explains the challenges that brands face when it comes to digital CX and how technology can help overcome them.
Local authorities across the UK are under constant pressure to increase efficiency and productivity, while delivering a high quality experience to the public. Birmingham City Council (BCC) is a prime example of an authority that is successfully transforming how it delivers customer experience.

As we come to the end of a busy 2017 it is a good time to review the year, and in particular to look at the most important developments in customer experience over the last 12 months. What were the hot topics and what were the major changes in the market? Based on the topics covered in the Eptica blog that received the most interest, we've put together a top 7 posts from across 2017.
Birmingham City Council is delivering improved service to its 1.1 million citizens by using Eptica's artificial intelligence-powered customer experience platform to respond consistently to the over 2.19 million emails and phone calls it handles annually

Social media saw the biggest fall, potentially driven by its increasing use by consumers as a customer service channel. Just 34% of tweets and 35% of Facebook messages received a successful answer, despite 94% of companies advertising their Twitter...