Meaningful conversations between brands & individuals improve daily life for everyone

Eptica positioned in the 2017 Gartner Magic Quadrant for the CRM Customer Engagement Center

2017 Retail Conversation Study: Digital Customer Experience

Knowledge Management for Customer Service Success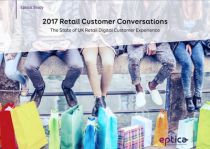 2017 UK Retail Customer Conversations Study
40 leading UK retailers were evaluated on their ability to provide answers to routine questions via Email, Web, Chat, Twitter and Facebook, along with 1000 consumers...
Anne-Sophie Pouyau, Head of International & European Customer Service, L'Occitane explains how the company is delivering a consistent global customer experience with Eptica

This week's Gartner Customer Experience & Technologies Summit (10-11th May 2017) provides everyone in the sector with the perfect opportunity to take stock of the current state of customer experience – and to help CX teams to plan for the future.
For the fourth consecutive year Eptica has been included in Gartner Inc's Magic Quadrant for the CRM Customer Engagement Center (CEC).

Even though 93% of consumers say they are more likely to buy if they receive a positive customer experience, UK retailers are struggling to deliver adequate, consistent service new Eptica research suggests.