Meaningful conversations between brands & individuals improve daily life for everyone

Study: The impact of knowledge management on the bottom line

2017 Study: Digital Customer Experience

Eptica positioned in the 2017 Gartner Magic Quadrant for the CRM Customer Engagement Center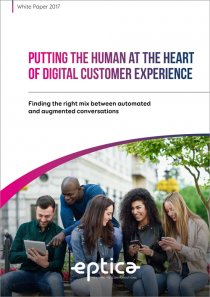 Putting the human at the heart of digital CX
Noted expert on customer experience, Regine Vanheems, explains the challenges that brands face when it comes to digital CX and how technology can help overcome them.
Providing access to knowledge is at the heart of creating an excellent customer experience. Failing to deliver timely, accurate answers to consumer questions disrupts the customer journey, while making it difficult to access relevant information, such as on your website, drives potential buyers away. Given the importance of knowledge, are UK brands delivering?

Banking, like many other sectors, is undergoing a period of disruption and change. Government legislation is committed to making it easier than ever for customers to change banks and interest rates remain low, meaning that service is a primary differentiator between companies. How are UK banks delivering when it comes to customer experience?
Providing more detailed, personalised answers to consumer questions on their channel of choice is now key to winning and retaining customers – but brands in the UK are failing to meet rising expectations. 91% of consumers surveyed by Eptica say

Birmingham City Council is delivering improved service to its 1.1 million citizens by using Eptica's artificial intelligence-powered customer experience platform to respond consistently to the over 2.19 million emails and phone calls it handles annually