Meaningful conversations between brands & individuals improve daily life for everyone

Eptica positioned in the 2017 Gartner Magic Quadrant for the CRM Customer Engagement Center

New Study: Insurance Digital Customer Experience

2017 Study: Retail Digital Customer Experience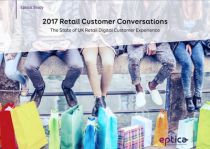 2017 UK Retail Customer Conversations Study
40 leading UK retailers were evaluated on their ability to provide answers to routine questions via Email, Web, Chat, Twitter and Facebook, along with 1000 consumers...
Do you really know what your customers think of the experience your business is delivering? At this year's Gartner Customer Experience & Technologies Summit , analyst Ed Thompson explained that there is often a wide gap between what consumers expect and what companies are delivering, while outlining 10 steps to improving CX.

Neil Titcomb, Regional Sales Director Northern Europe at Eptica explains how the UK customer experience market is changing and how Eptica is working with organisations to help them transform their digital customer service.
91% of consumers say good digital customer service from insurers makes them more loyal – yet the UK's leading insurance companies fail to accurately answer more than two thirds (68%) of routine questions asked through the web, email, Twitter and Facebook.

For the fourth consecutive year Eptica has been included in Gartner Inc's Magic Quadrant for the CRM Customer Engagement Center (CEC).