Meaningful conversations between brands & individuals improve daily life for everyone

Artificial Intelligence: Changing the Customer Experience landscape

Eptica positioned in Gartner Magic Quadrant for the CRM Customer Engagement Center

See Eptica in action at the Gartner CX Summit 2017, 10-11 May, London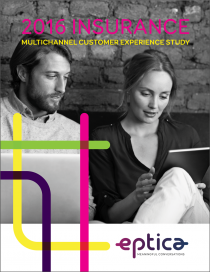 US Eptica Insurance Multichannel Customer Experience Study
We evaluated 100 leading US insurers, spread across ten sectors, on their ability to provide answers to routine questions via email, the web, chat, Facebook and Twitter...
So far in this three part series covering artificial intelligence (AI) in customer experience I've explained the difference between bots and chatbots and some of the key concepts that you need to know about. In this third part I'll finish my list of terms and describe how they can deliver an improved customer experience

Following last week's blog introducing artificial intelligence (AI) and explaining the difference between bots and chatbots, in my next two posts I want to explore the types of AI and how they can be applied in customer experience. Firstly, here are four key terms that you need to know
Despite the growth of digital channels, insurers seem to be stuck in an analog world, unable to respond accurately, quickly or consistently to customer queries asked via the web, email, Twitter, Facebook or chat, according to new Eptica research.

Advanced linguistics technology and CEO recognized as leading the way in customer experience at the 5th International Customer Relationship Excellence Leadership Summit in Hong Kong. Organized by the Asia Pacific Customer Service Consortium (APCSC) ...