Meaningful conversations between brands & individuals improve daily life for everyone

White Paper: Putting the human at the heart of digital CX

Eptica positioned in the 2017 Gartner Magic Quadrant for the CRM Customer Engagement Center

New Study: The Changing Face of Chat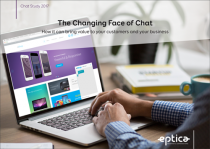 Study: The Changing Face of Chat
Based on real-world research with consumers and brands, this guide evaluates chat in the UK, and provides best practice advice to help drive loyalty, efficiency and greater revenues.
Noted expert on customer experience, Régine Vanheems explains the challenges that brands face when it comes to digital CX, and how technology can help overcome them.

NHS Business Services Authority provides a range of critical central services to NHS organisations, NHS contractors, patients and the public. Delivering the highest levels of service efficiently is at the heart of its strategy. Watch this video...
Eptica Chat Study finds consumers increasingly want to use chat for customer service - 72% of consumers say chat use makes them more loyal, and nearly a third will use chatbots - but just 15% are always happy with experience…

91% of consumers say good digital customer service from insurers makes them more loyal – yet the UK's leading insurance companies fail to accurately answer more than two thirds (68%) of routine questions asked through the web, email, Twitter and Facebook.