Meaningful conversations between brands & individuals improve daily life for everyone

Eptica positioned in the 2017 Gartner Magic Quadrant for the CRM Customer Engagement Center

New Study: Insurance Digital Customer Experience

2017 Study: Retail Digital Customer Experience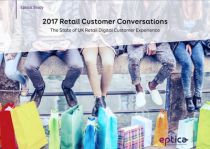 2017 UK Retail Customer Conversations Study
40 leading UK retailers were evaluated on their ability to provide answers to routine questions via Email, Web, Chat, Twitter and Facebook, along with 1000 consumers...
Across the world consumer expectations are continually rising when it comes to the service they receive from organizations. However, there are still significant differences between what consumers demand in different regions and cultures. All of these differences affect what local customers expect – and therefore the levels of service they receive.

Everyone involved in customer experience knows that customers are becoming more demanding, and are continually expecting more. They want quality conversations with brands if they are to remain loyal for the long term. This is equally true, whatever sector you operate in as shown by the findings of Eptica's 2017 Insurance Customer Conversations study.
91% of consumers say good digital customer service from insurers makes them more loyal – yet the UK's leading insurance companies fail to accurately answer more than two thirds (68%) of routine questions asked through the web, email, Twitter and Facebook.

For the fourth consecutive year Eptica has been included in Gartner Inc's Magic Quadrant for the CRM Customer Engagement Center (CEC).