You are here
Date : 12/10/2014
Over half UK shoppers can't find basic information online
Retailers risk losing Christmas sales through poor and slow customer service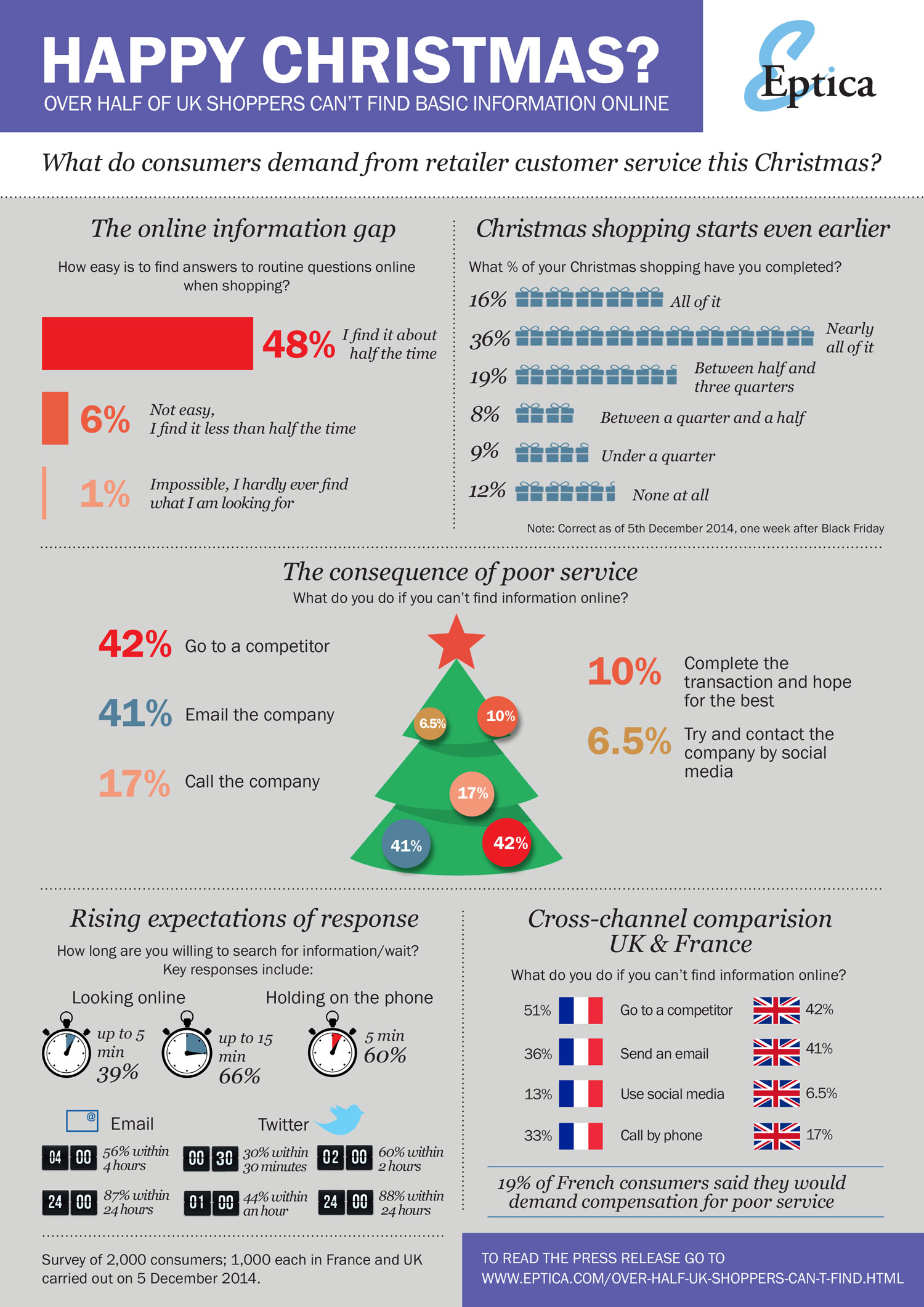 Reading, 10 December 2014, Despite online sales expected to hit £4.7 billion this Christmas , retailers are still not providing the right customer experience on the web. 55% of UK shoppers say they cannot find basic information, such as delivery and returns policies, on half the websites they visit, according to new consumer research commissioned by Eptica. At the same time, consumers are starting their Christmas shopping earlier. A week after Black Friday, 52% of consumers had already done over three quarters of their shopping, with 16% claiming to have completed it.
The consequences of poor service online are stark – 42% of the 1000 Britons surveyed say they simply take their business elsewhere. Alternatively, consumers are forced to switch to other channels. 41% said they would email, and 17% would call a company to get answers to their queries. This increases customer frustrations and may add to retailers' costs, as responding to emails and calls is more expensive than web-based interactions. Just 6.5% said they'd use social media, such as Twitter and Facebook, to get in touch.
Speed of response is also a crucial factor this Christmas. Over a third (39%) said they'd only spend 5 minutes looking for an answer online before switching to another supplier or channel. 60% will only hold for 5 minutes on the phone before hanging up. Over half (56%) of consumers expect their email to be answered within 4 hours, and 44% want a response to their tweets within an hour.
"Christmas is make or break for many retailers, meaning they need to focus on customer service if they want to be successful," said Olivier Njamfa, CEO and co-founder, Eptica. "55% of UK shoppers are dissatisfied with the information they receive on half the websites they visit, pointing to a gap between the best and worst retailers. As our research found, if you fail to deliver, customers have no qualms in either switching to competitors, or moving to more expensive channels such as the phone or email."
The UK experience is similar to France, where 51% of shoppers said they'd go to a competitor if they were unsatisfied with the service they received. 36% of French consumers would email to get their query answered, while a third would call, and 13% use social media. Interestingly 19% of French respondents said they'd demand compensation if they failed to receive the service they expected.
"Customers are ever more demanding when it comes to fast access to information – they are simply not willing to wait for an answer to their question, whatever the channel," added Njamfa. "However there is a chasm between expectations and reality – consumers want responses in hours or minutes on channels such as email and Twitter, yet many businesses take days and weeks to respond. Clearly, companies have to focus their efforts on better meeting customer needs if they are to thrive in today's service and speed-driven economy."
Carried out exactly one week after Black Friday, the research demonstrated that consumers are generally starting their Christmas shopping earlier. 16% had bought all their presents, while 36% had completed between 76-99% of their shopping. Just 12% had not yet begun buying. The Eptica research questioned 1,000 UK consumers online on 5th December 2014. 1,000 French consumers were asked similar questions on the same date.
An infographic on the results is available at:
Christmas_2014_Infographic_Eptica.pdf
---