Chatbot
Conversational automated self-service, 24/7
Serve and support nonstop with a conversational interface powered by AI. Free up your agents and experts to respond more valuable and complex queries.
Value your customer's time
Offer automated assistance whenever your customers need it via a conversational interface powered by AI to deliver tailored, contextual responses.
Escalate for that human touch
Transfer complex queries to agents seamlessly and collect data in order to improve articles, increasing customer satisfaction now and in the future.
Deflect but don't dehumanize
Automating responses to simple and repetitive queries, means your agents are more available to personalize responses to more complex queries.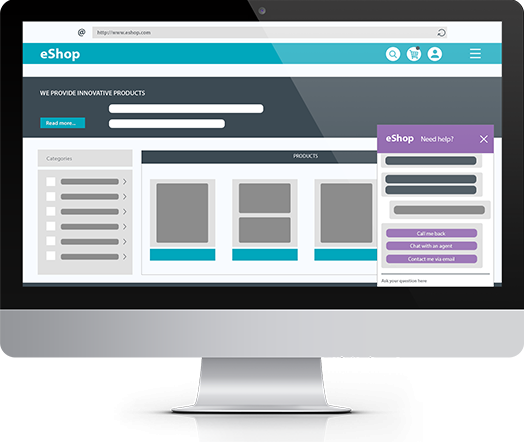 Natural Language Processing (NLP)
NLP is used to extract meaning from written messages because keywords are not enough. Once the text analytics process is complete, Eptica presents the most relevant from the knowledge base.
Escalation Process via Chat, Video or Form
With seamless escalation from self to assisted service with an agent, Eptica gives you the capability to create the escalation process and customer interaction funnel, regardless of channel.
Click to call and outgoing audio or video
Use video and/or audio to communicate with the customer, both one and two-way. Agent can switch seamlessly between text, audio, audio/video.
Support Regardless of Platform
Improve user experience with a conversational interface that works across platforms. Make your knowledge work for you everywhere - across desktop, mobile and device.
Real-time Analysis and Monitoring
Monitor visitor behavior and chatbot responses via out of the box reports to help you identify and enhance the best answers.
Built on the Knowledge Base
Provide conversational, relevant answers from a centralized Knowledge Base via natural language processing .
Want to know more?
Request a demo...