vecko
Transform your business with customer intelligence
Introducing a new era of customer intelligence to help you create memorable experiences for happy and loyal customers.

See also our vecko minisite >>
Access customer intelligence
vecko synthetizes the complete voice of the customer, capturing real-time customer conversations verbatim, as well as brand-solicited feedback (chat, email, speech to text, social media, satisfaction surveys).
Improve CX continuously
vecko is designed to answer the why behind the what, to help you understand your customer's behavior and what they say about your brand and products. Study the patterns that impact customer satisfaction and act on your scores (CSAT, LTR, NPS, etc.) to prevent churn.
Generate
immediate ROI
vecko can have a positive and lasting impact on business growth and business models thanks to actionable insight and clearly identifiable and immediate ROIs.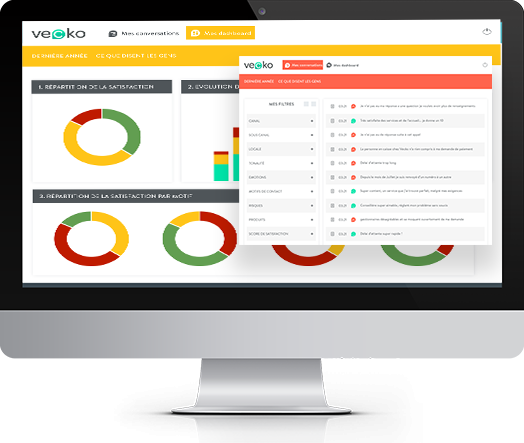 Reliability through AI
vecko guarantees more than 95% reliability of customer conversation analysis through the use of embedded AI, providing real, actionable customer insight on patterns, emotions, risks of churn, intent, etc.
Analyze emotions
vecko is the only solution to successfully analyze emotions in customer conversations as well as their behavior throughout the customer journey. Finally now you get inside your customers' heads and understand their frame of mind and experience of your organization – and improve their mood!
Unlimited use
vecko democratizes VOC. Unlimited users can share this insight across your organization, so it can inform strategic and operational actions by executive committees as well as marketing, sales, customer services, customer loyalty, ecommerce, operations, quality control, etc.