Ensuring customers feel special at Montblanc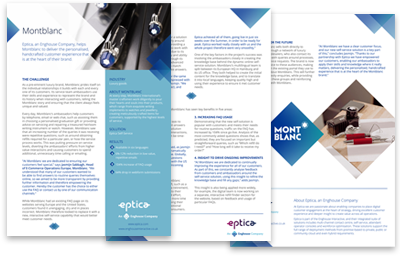 As a pre-eminent luxury brand, Montblanc prides itself on the individual relationships it builds with each and every one of its customers. Its service team ambassadors use their skills and experience to represent the brand and its history when interacting with customers, ensuring that the client always feels unique and valued.
Every day, Montblanc's ambassadors help customers by telephone, email or web chat, such as assisting them in choosing a personalised graduation gift. However, Montblanc saw that an increasing number of the queries it was receiving were repetitive questions, such as around obtaining refills required for a particular pen, or how the service process works. This was putting pressure on service levels, diverting the ambassadors' efforts from higher-value interactions and causing customers to spend additional, unnecessary time calling or emailing.
Montblanc, therefore, looked to replace their FAQ pages with a new, interactive self-service capability that would better meet customer needs...
Download the Montblanc case study
Please take a few moments to fill the information below.