Meaningful conversations between brands & individuals improve daily life for everyone

See Eptica in action at the Gartner CX Summit 2017, 10-11 May, London

2017 Retail Conversation Study: Digital Customer Experience

Eptica positioned in Gartner Magic Quadrant for the CRM Customer Engagement Center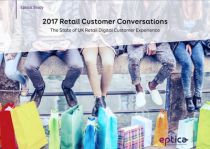 2017 UK Retail Customer Conversations Study
40 leading UK retailers were evaluated on their ability to provide answers to routine questions via Email, Web, Chat, Twitter and Facebook, along with 1000 consumers...
The rise of the Internet of Things (IoT) promises to dramatically change the relationship between people and technology. By "smartifying" all sort of devices, from white goods to lamp posts, to communicate without the need for human intervention the IoT will automate many routine tasks, making life easier for everyone.

Given its importance to the bottom line, customer experience is high on the priority list of CEOs, CMOs and CIOs alike. Research from Gartner found that nearly a third (31%) of CEOs had customer projects as their number one strategic priority for this year, and 37% said that customer experience management was their most important area of technology investment over the next 5 years.
Even though 93% of consumers say they are more likely to buy if they receive a positive customer experience, UK retailers are struggling to deliver adequate, consistent service new Eptica research suggests.

Despite the growth of digital channels, insurers seem to be stuck in an analog world, unable to respond accurately, quickly or consistently to customer queries asked via the web, email, Twitter, Facebook or chat, according to new Eptica research.