Meaningful conversations between brands & individuals improve daily life for everyone

Eptica positioned in the 2017 Gartner Magic Quadrant for the CRM Customer Engagement Center

New Study: Insurance Digital Customer Experience

2017 Study: Retail Digital Customer Experience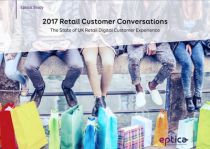 2017 UK Retail Customer Conversations Study
40 leading UK retailers were evaluated on their ability to provide answers to routine questions via Email, Web, Chat, Twitter and Facebook, along with 1000 consumers...
All organizations understand the importance of customer experience to the bottom line. CX is at the heart of differentiating yourself from the competition, whatever sector you are in, and key to retaining customers. How can CX teams demonstrate ROI in concrete terms?

Using social media for customer service has been around since channels such as Facebook and Twitter first sprang to prominence. The combination of being easy to use and very public forums mean that consumers quickly understood the power it gave them to interact with brands, with the aim of getting fast, accurate responses to queries and having their problems solved.
91% of consumers say good digital customer service from insurers makes them more loyal – yet the UK's leading insurance companies fail to accurately answer more than two thirds (68%) of routine questions asked through the web, email, Twitter and Facebook.

For the fourth consecutive year Eptica has been included in Gartner Inc's Magic Quadrant for the CRM Customer Engagement Center (CEC).