Meaningful conversations between brands & individuals improve daily life for everyone

Eptica positioned in the 2017 Gartner Magic Quadrant for the CRM Customer Engagement Center

New Study: Insurance Digital Customer Experience

2017 Study: Retail Digital Customer Experience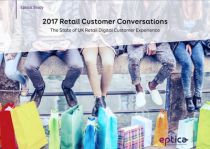 2017 UK Retail Customer Conversations Study
40 leading UK retailers were evaluated on their ability to provide answers to routine questions via Email, Web, Chat, Twitter and Facebook, along with 1000 consumers...
Planning ahead is central to retail success, which is why during the summer months many retailers are already preparing for the Peak festive shopping season. Given the importance of customer experience to sales success, optimizing CX is high on the list of priorities. So how can you ensure that your customer experience helps you have a Happy Christmas?

Getting the technology right is an important aspect of delivering on your customer experience (CX) goals. But any investment in new technology will be competing against multiple other disciplines for budget and management time. Building a strong business case is therefore essential.
91% of consumers say good digital customer service from insurers makes them more loyal – yet the UK's leading insurance companies fail to accurately answer more than two thirds (68%) of routine questions asked through the web, email, Twitter and Facebook.

For the fourth consecutive year Eptica has been included in Gartner Inc's Magic Quadrant for the CRM Customer Engagement Center (CEC).