3 ways for businesses to improve telephone customer service
Published on:
October 21, 2016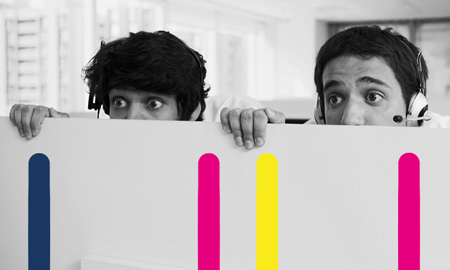 In a multichannel world, the telephone is no longer the default choice of consumers when they want to make contact with an organization. However, it is still vital, particularly for more involved conversations when customers want the reassurance of speaking to an agent, rather than using digital channels.
Yet new research from consumer group Which? shows that telephone customer service is failing to keep pace with customer needs. It found that 90% of callers were unwilling to wait more than 5 minutes to speak to an agent, and that continual messages telling them that "their call was important" were likely to annoy them, damaging company reputation. This mirrors Eptica research with insurance customers – 79% said they'd hang up if they didn't get connected to an agent within 15 minutes.
Given the relatively high cost of handling telephone conversations, companies need to find ways of increasing efficiency on the channel – without impacting service. Here are three ways to achieve this:
1. Speed up calls
Customers want fast, accurate answers to their queries, delivered by knowledgeable agents who have the facts at their fingertips. Unfortunately, many contact centers still rely on paper-based information sources, such as manuals that staff have to read through to find answers. This slows down service and pushes up costs – for example, manuals need to be continually reprinted every time information changes. Switching to a single, centralized, knowledge base that organically manages content is the answer. This empowers agents with the information they need – they simply type in their question and receive an instant, relevant answer that they can then share with the caller. This speeds up service, shortening the length of calls and improving agent productivity –while driving increased customer satisfaction. Efficiency is also improved as paper manuals are eliminated from the contact center, and the knowledge base content can easily be shared across other channels, such as the company website, email, chat and social media, further enhancing consistency and bringing down costs.
2. Make it easy to use other channels
Customers want to use their channel of choice to make contact, so ensure that you offer them a full range alongside the telephone. Many companies simply don't do this – in recent Eptica research 68% of responses on email, Twitter and Facebook from U.S. insurers asked consumers to change channel and call, even for the most basic queries.
Advertise these other channels on your website and any materials sent to customers, such as statements or bills, making it as easy as possible for consumers to use them. Create secure customer portals that allow people to check and update their details without needing to make contact directly. Resource email and social media so that customers receive fast responses, avoiding multiple follow-up enquiries which will encourage them to switch permanently to these channels. Ensure that you use intelligent self-service on your website so that customers can find routine information without needing to pick up the phone, reducing inbound call volume and improving satisfaction.
3. Explore alternatives
As well as email and social media, companies need to embrace other alternatives to the traditional telephone call. Chat is a good example. Introducing it can deliver real benefits to both consumers and companies alike. Firstly, customers are extremely happy to use it - the rise of messaging technologies, such as Instant Messenger and Skype, mean that an increasing number of consumers are familiar with how chat operates. Nearly 40% of people surveyed by eDigital Research expected companies to offer chat as an option, driven by the fact that 67% said it was easy to use.
Secondly, chat sessions are cheaper and more efficient for businesses – agents can handle multiple two way conversations at the same time, while still delivering fast, personalized service. This increases efficiency. Using proactive chat, which is triggered when a customer appears to be stuck on a particular part of the journey on your website, is proven to reduce abandoned transactions and consequently boosts revenues. What is vital is to resource chat effectively, providing sufficient, trained agents to cope with customer demand at peak times.
Despite the rise of digital, the telephone channel is still extremely popular, meaning that companies need to ensure that they provide the highest levels of service over the phone, while balancing efficiency and the overall experience. Ensuring you take a multichannel approach and deflect more routine queries will result in shorter wait times, faster answers and allow agents the time to deal with those more involved conversations – resulting in happier customers, whatever sector you operate in.
Categories:
Best Practice
You might also be interested in these posts: