4 ways of raising the profile of customer service in your organization
Published on:
September 30, 2016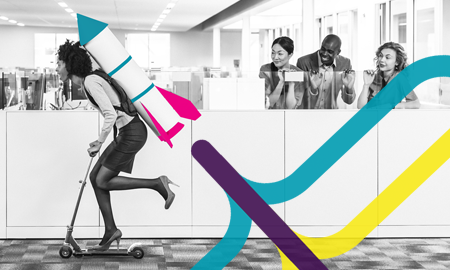 National Customer Service Week (NCSW) will soon be celebrated on both sides of the Atlantic. Running between October 3-7, it highlights the importance of customer service to every organization, and provides the opportunity to learn from best practice and to celebrate success across the sector. The scale of the industry is impressive with 3.4 million Americans working in contact centers and over 70% of the UK working population occupying roles that involve dealing directly with customers.
In the US this year's theme is Service Champions, demonstrating the importance of people working together to deliver excellent service. It focuses on three components - leading by example, achieving success and exceeding expectations. In the UK, each day of the week has its own theme, ranging from understanding complaints to consumer priorities and collaboration.
NCSW presents a chance to show that superior service is central to business success, requiring skilled staff, empowered by knowledge and technology to make a difference. For those that haven't yet planned NCSW (and time is running out!), here are some examples of what you can do to demonstrate the importance of service in your organization.
1. Get your CEO to work a shift in the contact center
Agents are on the frontline, interacting with customers every day over the phone, on email, social media and through chat. Given the high profile of NCSW, what better time for your CEO and senior management to learn firsthand what customers are saying about their business? Working a shift in the contact center should give them a better perspective on the organization and how customer service functions as its heart.
2. Demonstrate the link between service and revenue growth
When customer service departments began, they were seen as cost centers, and the drive was largely to increase efficiency and reduce budgets. As the importance of customer service grew, and competition has increased in all markets, this focus has changed. Efficiency is still vital, but needs to be balanced with delivering an excellent customer experience that helps differentiate businesses from their rivals. This is proven to boost the bottom line. For example, recent research from Forrester found that companies across five sectors with higher CX scores outperformed their rivals in revenue growth. The difference was stark – CX laggards grew by 3%, leaders by 17%. Make sure that everyone in your organization understands the financial benefit of good customer experience – and the contribution your contact center makes to delivering it.
3. Let agents share their stories
How well do employees in the wider organization know what the day to day job of a customer service agent involves? Ensure the agents are sharing their experiences and what they do through company meetings, staff newsletters and other channels. This will give the rest of the business a greater understanding and respect – it might even drive some staff to apply to join your team!
4. Reinforce that customer service is everybody's job
Particularly during NCSW, it is vital to get across the message that customer service isn't just the responsibility of the contact center. Everyone in the organization has a role to play – whether they are meeting customers in-store, interacting with consumers on the phone or working in field service. Given that customer queries are becoming more and more complex, subject experts from across the business are likely to be needed to use their knowledge to answer specific questions, so make sure that they are aware of their role and that you have the technology and workflow in place to support them in carrying it out.
Above all, it is vital that the focus on customer service goes beyond the week itself – delivering great experiences is crucial to business success, all year round, so companies need to put it at the heart of their strategy if they want to thrive.
Categories:
Best Practice
You might also be interested in these posts: