5 key customer service skills – and how technology can help improve them
Published on:
November 06, 2015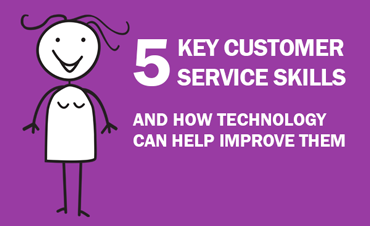 Recruiting and retaining high quality customer service staff is one of the cornerstones of keeping consumers happy and loyal. Even with the rise of self-service options, for the majority of channels (email, social media, chat, phone, face to face) the experience created by the people you employ is crucial to the success or failure of the customer relationship. Gartner predicts that by 2020 nearly half (47%) of all customer service requests will still require human interaction.
For most companies, employing customer service agents with the right blend of skills and continuing to develop them with ongoing training is essential for success.Gearing up for Christmas means that many businesses, especially retailers, are adding more staff in store and in contact centers. So, what are the key skills to focus on – and how can technology help?
The recent infographic by mattsfactor highlights the top ten customer service skills, and it's very apparent that technology, as well as training, can help enhance at least five of them:
1. Good product knowledge
Your agents will need to know about your company, its products and services, but they cannot necessarily know every detail. Therefore, arm them with access to a centralized knowledge baseto ensure they have comprehensive product information at their fingertips. For new agents, this can also help shorten the training cycle as it means they don't have to memorize every potential answer.
A centralized multi-channel knowledge base also ensures customers always receive consistent answers to their questions regardless of which channel they use to make contact. Moreover, it will help customers receive answers more quickly as well as increase the chance of First Contact Resolution – two things most customers value highly. Finally, the knowledge base will provide you with the ability to analyze the most frequently asked questions to get an indicator of the pain points or challenges that your customers are facing.
2. Appropriate Communication
Different agents have different skill sets, so you need to make sure they are employed on channels and tasks that fit best with their talents. For example, some agents are 'typers', more at home with the written word, while others are 'talkers', happy on the phone but less confident with answering emails or chat sessions.
A knowledge base gives agents automatic answers to customer questions yet allows them to personalize. This makes it easier to ensure that communication is appropriate and matches the channel and customer requirement.
3. Empathy
According to Eptica's own research, the number one complaint from customers about agents is a (perceived) lack of understanding. When an agent fails in acknowledging the customer's feelings, such as upset or anger, it can give the impression that the agent either doesn't understand or care about their problem.
For written communications such as email, text or social media, it's difficult for agents to pick up on a customer's emotions as there's none of the visual or verbal cues available face to face or on the phone. This problem is compounded by the increasing volume of written contacts that now have to be managed, across multiple channels, often with stretched resources.
Technology using linguistics can be used to support agents to address this challenge. It cananalyze incoming interactions automatically, prioritize them based on tone and forward them to the most relevant agent or department along with appropriate suggested answers. Written text perceived to display a high level of anger or frustration can be given a high priority for fast attention – perhaps by a more senior or experienced agent.
4. A strong work ethic
It goes without saying that agents need to be conscientious, demonstrate attention to detail, and be able to think like a customer. However, particularly at busy times, they can feel overwhelmed by the volume of interactions coming in and looking at the list of queries to answer can appear daunting.
It's best in these situations to aim to reduce the load as much as possible using self-service technology to deflect routine queries that can be answered via the website. This allows consumers to ask questions in their own words and receive fast, accurate responses that provide clear, straightforward answers – meaning they're less likely to pick up the phone, send an email or use social media to make contact. In addition, the reduction in total incoming queries should mean that agents will be able to focus on more complex interactions.
5. Responsibility
As the face (or voice) of the company, the agent is key to the customer experience. However he or she may not always have the information to deal with a query adequately. Therefore, it is vital to take on the responsibility to help solve the situation. Here, powerful workflow technology can be used to register incoming queries across every channel and then pass them to the best available agent to provide an answer. It needs to include those with specific knowledge who work outside of the customer service team – as well as people working for partner organizations – to handle specialist queries or those outside the remit of the company.
It's obvious that the quality of the people you employ will always be a big part of your customer service success but technology, used effectively, will help them deliver an even better level of service in the most efficient and productive way.
Categories:
Agent Knowledge Base, Contact Center, Customer Experience, Customer Service, Gartner, Linguistics, Multichannel Customer Service, Social Media
You might also be interested in these posts: