The 5 trends brands need to address for improved customer service
Published on:
January 25, 2017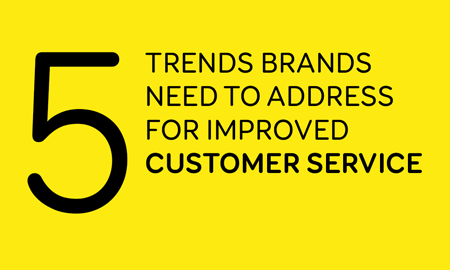 The latest Institute of Customer Service (ICS) UK Customer Satisfaction Index (UKCSI) has a positive message for everyone involved in customer service. Overall, consumer satisfaction has risen to 77.8, up 0.8 compared to January 2016, marking the fourth straight improvement in results. Satisfaction is at its highest since July 2013, according to the 10,000 consumers who were asked for their views on companies in 13 different sectors. Every sector improved its performance, with the sole exception of automotive, where satisfaction remained flat.
However, digging deeper reveals five key trends that companies need to address if they are to continue to score highly for customer satisfaction:
1. Customers are being asked to do more
The overall Customer Effort Score is up by 0.3, the first rise for two years. This means that brands are forcing consumers to spend more time on the process of receiving satisfactory service. Whether that is asking them to make contact through specific channels, longer hold times or less understandable answers, this all, ultimately, impacts satisfaction. Brands need to ensure that they are valuing customers' time, and making it as easy as possible for them to interact with them.
2. Customers are less likely to recommend
While standards are rising, so are customer expectations. This could be why the willingness of consumers to recommend companies is falling. The overall Net Promoter Score, based on the difference between Advocates and Detractors, fell by 5.2 points. Companies therefore need to continually invest and innovate in the customer experience if they want to not just retain consumers, but to turn them into advocates for their brand.
3. Problems are increasing
Overall, the number of consumers that had a problem with an organization grew by 0.5% to 13.1%. In part this reflects the complexity of many businesses and the wider customer journey – there are simply more things that can go wrong than in the past. The fact that satisfaction levels are rising at the same time shows that the majority of companies are solving any issues as they arise. Problems can occur for a wide number of reasons, often due to factors outside a company's control – such as a delayed or missing delivery through a third party logistics provider, for example. What consumers want is for brands to take ownership of problems, show understanding and sort it out quickly.
4. Customer service is becoming more competitive
As well as overall satisfaction levels rising, the gap between the best and worst is narrowing. The top sector, Non-food retail, scored 82.5 out of 100 (up 0.5 since January 2016), while at the foot of the table Telecommunications & Media rose by 1.0 to 73.6. Consumers expect the same high levels of service, whatever type of organization they are dealing with, and the latest results demonstrate that companies are learning from other sectors in order to improve the experience they offer. This all increases the pressure on current leaders – they need to continue to invest if they are to differentiate themselves from their rivals.
5. Channel choice is changing
Over the last year, the number of interactions through digital channels has increased, at the expense of the phone and face to face. Nearly a quarter of experiences are now via company websites (up from 22.6% a year ago), while email has surged from 4.9% to 9% of all interactions. Web chat, apps and text have all also increased. What this demonstrates is the rise of digital, which consumers of all ages value for its ease of use, the fact that it is always-on and, in the case of email, a full audit trail. To support digital experiences successfully companies need to ensure that they have the right resources in place, particularly around meeting customer demands for fast answers on these channels.
The latest UKCSI findings will be highlighted at the forthcoming Institute of Customer Service Annual Conference, which takes place on 7 March 2017 in London. Fashion retailer and Eptica customer New Look will be speaking on how it has generated a return on its customer service investment, while Eptica will be exhibiting at the event. Click here to find out more.
Categories:
Best Practice, Trends & Markets
You might also be interested in these posts: