5 ways of spring cleaning your customer service
Published on:
April 01, 2015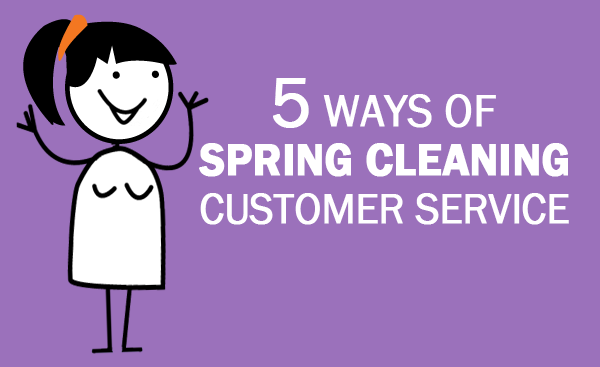 Now that the clocks have gone forward, the weather is improving and the Easter break is nearly upon us, many people are setting to work on de-cluttering their houses and sprucing up their gardens. For those of us working in customer service, it is a good time to apply the same spring clean mentality to our contact centers, blowing away the cobwebs and ensuring that everything is performing smoothly.
Based on what I've seen here are five areas to focus your efforts on:
1. Clean up your knowledge
Most successful organizations rely on a centralized knowledge base to power their customer service. Having a single store of information ensures a consistent, efficient multichannel response – whether it is being accessed by customers directly (such as through web self-service systems) or made available to agents answering queries via email, the phone, chat and social media. The start of Spring is a good time to look through your knowledge base. Are there any out of date answers that should be removed? Do other areas need to be covered? What responses should be improved? Take a look at your stats to see which answers haven't been used for months and which areas are attracting most questions, then add or subtract knowledge as needed.
2. Check your processes are seamless
How easy is it for customers to get responses to their customer service queries across all the channels that you offer? A simple way to check this is to act like a customer – conduct your own mystery shopper research and see what the results are. It should deliver insight into areas that need tweaking. Analyze the questions asked by customers to find out where they encountered issues along their customer journey. Are there parts of the process that need to be changed or information that needs to be made easier to understand in order to make the journey seamless?
3. Hold an Easter Egg hunt!
Customer service staff can be exceptionally busy and, while they've been trained on the systems they need to do their jobs, they are obviously going to be most knowledgeable about the parts they use day in, day out. Extend their skills and re-introduce them to areas and functions that they don't normally use in order to increase productivity and efficiency. Why not follow the seasonal theme and run your own virtual Easter egg trail, with agents having to find information from different parts of the system in order to qualify for a real chocolate reward!
4. Physically spring clean
Given how busy they are, contact centers can quickly become overwhelmed with paper if agents print out shortcuts, guides or even rely on folders of answers to common questions. This information can go out of date quickly, meaning that agents risk giving the wrong responses to customers. Physically spring clean the contact center and, even better, sweep away paper-based systems and replace them with a centralized knowledge base that is always up to date.
5. Check your metrics
Customer service systems produce a bewildering array of metrics, from response times to First Contact Resolution (FCR) rates. Additionally, companies measure satisfaction through CSAT, NPS or Customer Effort scores. Now is a good time to take a look at what you are measuring and see if it fits with your customer service, and overall business, objectives. Are you tracking the right metrics? Are they translating into more satisfied and loyal customers? If not, what can you change to ensure that metrics match objectives more closely?
Spring can feel like a new beginning, so use your energy to clean up your customer service – you'll feel the benefits for the rest of the year, and hopefully beyond.
Categories:
Contact Center, Customer Engagement, Customer Experience, Customer Service, Agent Knowledge Base, Multichannel Customer Service
You might also be interested in these posts: