+7! "Gartner award demonstrates our position as a leader of digital customer engagement platforms for the digital customer experience"", Olivier Njamfa, CEO
Published on:
May 24, 2017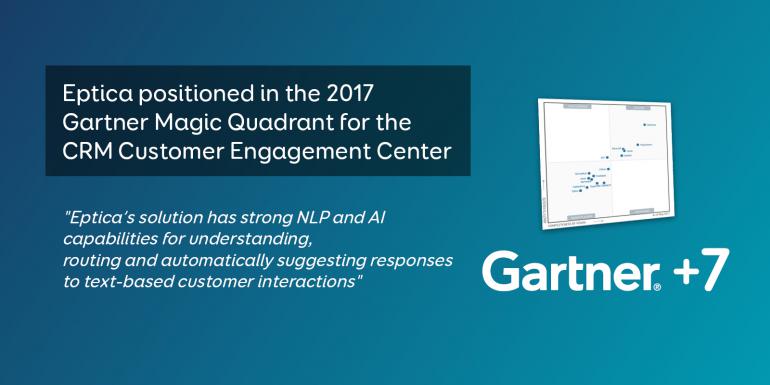 What does the award mean for Eptica?
Gartner award recognizes our position as a leader of digital customer engagement platforms and our 3Cs approach: conversational and collaborative solutions based on artificial intelligence for the digital customer experience. This marks the fourth consecutive year that Eptica has appeared in this Magic Quadrant and the seventh year in a row that Eptica has featured in a Gartner Magic Quadrant. I am therefore very proud that Eptica has retained its position alongside other global leaders : Salesforce, Pegasystems, Microsoft, Oracle, Zendesk, SAP, Lithium, Service Now, Freshdesk, EGain, bpm'online, SugarCRM, CRMNEXT, mlpsystems.
What is the scope of the Magic Quadrant?
The digital customer experience market is changing rapidly, driven by the rise of artificial intelligence and increasing consumer demands, and is becoming ever-more central to business success. In this context, the Magic Quadrant for the CRM Customer Engagement Center provides companies with the global market for customer service and support applications designed to enable customer service and support agents to engage customers through their preferred communication channel. The functionalities evaluated in this Magic Quadrant include those for knowledge-enabled service resolution, social media/community management and offer management. Also evaluated are interaction assistance tools and service analytics dashboards. Ideally, the applications should have tools for both agents and customers, and the vendors should have a clear point of view on how to escalate customer support from self-service to human agents and back again, while retaining the context of the interaction for reporting and future customer engagements. Gartner evaluated vendors on their completeness of vision and ability to execute on that vision.
What are the main conclusions about Eptica?
Artificial intelligence is becoming central to customer experience. Gartner underlines our long-term investments in Natural Language Processing (NLP) and linguistics. According to Gartner, our AI technology is now mature, meaning that our platform is becoming increasingly vital to our customers. Coupled with our strong, self-learning knowledge management capabilities, this means we are ideally positioned to help brands deliver digital CX across email, chat, social media and self-service, through a single, cloud-based platform.
What is the selection process?
It is a long and very demanding process that takes more than 6 months. As part of the Magic Quadrant, Gartner spoke in-depth to vendors, carried out over 150 online surveys and conducted 50 telephone interviews with vendors' reference customers.
More blogs about Gartner 2017 :
L'Occitane – the benefits of a global approach to digital customer experience
Coping with disruption through AI and human customer experience
Customer Experience in action through Artificial Intelligence
Shaping the future of customer experience
Categories:
News, Best Practice
You might also be interested in these posts: