7 key issues that are holding back digital transformation in insurance
Published on:
October 07, 2016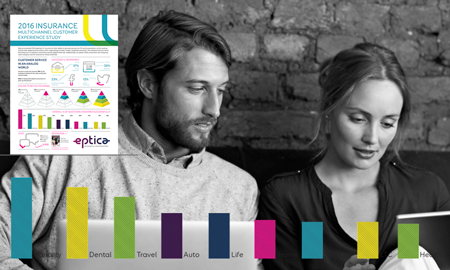 Like many industries, insurance is being disrupted by digital technology. Nearly 80% of consumers want to use digital channels such as the web, email, social media and chat to interact with insurers – yet under a quarter of businesses say they are fully digital, according to Accenture. Add in rumors of tech giants such as Google, Facebook and Amazon entering the market, and it is easy to see the scale of the challenge facing traditional insurers.
To find out how they are performing, the 2016 Eptica Insurance Multichannel Customer Experience Study evaluated 100 U.S. insurers, split between ten sectors, on their ability to:
Successfully provide answers to 10 routine questions asked on their websites
Respond quickly and accurately to queries sent via email, Twitter, Facebook and chat
Deliver consistent responses across all of these channels
At the same time 1,000 consumers were polled for their views on the digital customer experience that insurers offer, specifically around expected speed of response and the ease of finding information online.
Struggling to transform
Overall just 28% of queries were answered through digital channels, with 14% of companies failing to answer on either email, web, Twitter, Facebook or chat. Clearly, many insurers are not yet fully embracing digital, with 68% of responses to email and social media asking consumers to pick up the phone and call. This analog approach leads to seven key issues that need to be overcome:
1. A digital gap between customers and insurers
Consumers increasingly want to use digital channels to research and buy insurance, but companies are not meeting their needs. Nearly 6 in 10 (57%) said they wanted a response to their email within an hour – just 10% of insurers met this target. 61% said they couldn't find information online over half the times they looked for it.
2. Majority of questions go unanswered
The highest percentage of successful responses to queries came on email, with 37%, followed by the web (30%) and Facebook (23%). Twitter was last with just 12% of companies providing a successful answer. No channel scored above 40% meaning the vast majority of queries are not being responded to accurately, risking consumer dissatisfaction or abandonment.
3. Digital is not delivering quickly enough
Consumers want a fast, seamless experience, but insurers are making them wait. Consumer expectations vs. reality shows a stark gap between the two:
71% of consumers expect a Twitter response in an hour – 29% of insurers deliver
57% expect an email response in an hour – 10% of companies hit this deadline
63% expect a Facebook response in an hour – 34% of companies meet this target
This not only creates consumer frustration but also pushes up costs as people will be forced to call.
4. Lack of multichannel service frustrates consumers
Consumers want the flexibility to make contact on the most convenient channel for their needs and circumstances. Yet, just one company, in the health insurance sector, responded on all four channels of email, Twitter, Facebook and chat. 46% either didn't respond on any channel or answered on just one. This failure to provide a multichannel digital platform to allow consumers to get information and communicate will create consumer anger.
5. Inconsistent responses hit the bottom line
Consumers value consistency – they want to know they'll get the same response, no matter the channel of choice. Failure to provide similar answers across all channels is symptomatic of a silo-based approach to customer service, which pushes up costs and reduces efficiency. Nearly half (47%) of insurers failed to provide consistent answers between different channels, showing a need for greater integration inside customer service departments.
6. Failing to embrace chat risks alienating consumers
Chat is proven to be a faster way for consumers to get answers, while being much cheaper to operate than the telephone channel, as agents can take part in multiple chats at the same time. Yet, insurers are failing to embrace it. 17% claimed to offer chat, but when revisited just 5% had it available for consumers. Showing the lack of focus on chat, one company even asked the researcher to switch to the telephone to get an answer!
7. Best practice is scattered between sectors
The Eptica Study researched ten specific sectors within the industry – auto, dental, extended warranty, health, home, life, long term care, pet, travel and specialty. There were dramatic differences between them. While some consumer sectors such as pet scored highly, others (such as auto and home) failed to answer significant numbers of questions.
To find out more, take a look at an infographic of key findings. To read the full Eptica Insurance Multichannel Customer Experience Study, download it here.
Categories:
Best Practice, Trends & Markets, News
You might also be interested in these posts: