Avoid these 5 CX Leadership Traps!
Published on:
November 06, 2019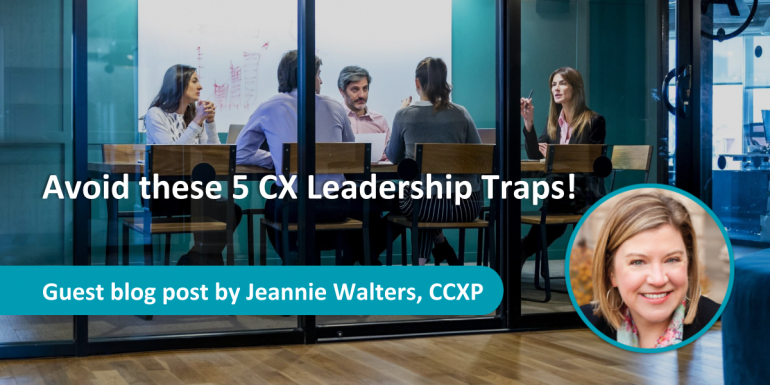 Those of us in the customer experience industry can feel like we are making progress when we are collecting valuable customer feedback, communicating throughout the organization, and creating awareness about the importance of focusing on customers.
And, yet, the numbers and results can tell a different story.
Customer experience leaders can fall into the trap of being "busy," but not necessarily productive when it comes to making real change at their organizations. Have you fallen into one of these traps?

1. Focusing exclusively on the WHAT of metrics, not the WHY
Business leaders in every industry are driven by data and charts. What's more satisfying than reporting an "uptick" in a stagnant measurement? But as leaders brag about how their Net Promoter Score (NPS) moved up .05%, they may not really understand why that happened.
Moving from metrics to insights means examining what caused that uptick. Customers share more about their experience than just a ranking. They tell you via contact centers, open-ended answers on surveys and general conversation with your brand.
Leaders must be able to evaluate and assess that feedback in order to create change. Thanks to technology like Artificial Intelligence (AI) and Text Analytics, there are powerful ways to do this. Too many leaders see the number as the end game. Reporting on an uptick is nice, but understanding why that happened is a lot more powerful.
2. Assuming other leaders are on board the CX train
Making progress of any kind in customer experience requires a cross-functional team to make things happen. CX leaders must get buy-in from other leaders before relying on them to enact the changes needed to deliver great experiences.
But what does buy-in look like? Leaders who tout the wonders of customer experience often assume those who politely listened were actually invested in what they were saying. But leaders of other departments are worried about their metrics, their responsibilities and their teams. CX leaders should help them by connecting the dots between investing in the experience and their business outcomes.
Buy-in from leaders is such a critical factor that the first component to any customer experience strategy is "top-management buy-in," according to research by McKinsey released in 2019. Don't assume other leaders are on board, just because you want them to be. Create check-ins and internal measurements to ensure you are gaining traction across the organization. One clever leader I worked with created her own buy-in measurements based on how other leaders answered the simple question every month, how important is CX to you? She was able to track her progress and adjust as necessary. This simple approach to tracking buy-in also allowed her to focus on those leaders who required more attention. She created specific updates for them that highlighted the CX efforts which led directly to their business outcomes. They began to see the evidence for themselves, and in turn, became much more likely to support the cross-functional initiatives needed to move the needle.
3. Leveraging only part of a Customer Experience Management tool
We've come a long way from the first customer feedback tools. A suggestion box is cute, but a robust and intelligent customer experience platform is so much better! CX leaders often are only leaning on one part of the tools they have. Maybe it's easy to create a dashboard with the latest metrics and that feels like leveraging the tool. But what about sentiment analysis? Machine learning and bot logs? Predictive analyses?
The tools of today have so many amazing features. It's up to CX leaders to really understand what's available and leverage accordingly! With today's always-digital experiences, leveraging tools to proactively offer personalized experiences for customers seems like a no-brainer. And yet…as customers, we know this isn't happening as much as it should.
4. Ignoring your contact center agents
There's a funny thing that happens as employees rise up the ranks. It's easy to get farther and farther away from customers. Building a case for change means seeing patterns in data. Who better to see these changes than your contact center agents? Those employees who interact directly with customers via meaningful conversations through voice, text and chat can tell you a whole lot about where the next big issue might happen!
Customer experience leaders need to stay very connected to these front-line superstars. They can often tell you when change is required. After all, they are fielding requests and handling complaints all day long. This means they can look into the future before your data is able to catch up.
Invite your agents to share what they see and hear on a more regular basis. Make it easy for them to often share these observations, and make sure this loop gets closed and they feel heard and acknowledged. They should know when their input leads to positive changes for customers!

5. Moving too quickly and failing to celebrate the wins!
CX leaders have a lot to do, so it's not surprising that they are often moving on to the next thing ASAP! Successful customer experience requires company-wide effort. All those people who contribute to a success need to be acknowledged and know what they're doing matters. The best leaders take time to celebrate those wins, and in turn, celebrate those who contributed.
Celebrating the wins, big and small, is actually a great way to do everything here. Success begets more success, and customer experience is no different. Celebrate all those people, processes, tools and actions that helped you win!
Are you ready to make real changes on behalf of your customers? Avoid these leadership traps and share in the success with your team, other leaders, and your entire organization!
About Jeannie Walters
Jeannie Walters is the chief customer experience investigator and founder of 360Connext, a global consulting firm specializing in evaluating and improving the customer journey.
Jeannie is a Certified Customer Experience Professional (CCXP), a CX Expert Panel member for the Customer Experience Professionals Association, a Professional Member of the National Speakers Association, and a TEDx speaker. She also co-hosts a top-rated podcast on customer experience and customer service, Crack The Customer Code.
She's passionate about making the everyday interactions we all have as customers better and writes, speaks, studies and trains on customer experience and patient experience issues around the world. Her mission is "To Create Fewer Ruined Days for Customers."
Walters lives in Oak Park, Illinois with her husband Mike and their two sons. As such, her current hobbies include cheering on youth sports teams and robotics teams alike.
Categories:
Best Practice, Trends & Markets
You might also be interested in these posts: