Can companies meet rising customer expectations?
Published on:
March 18, 2015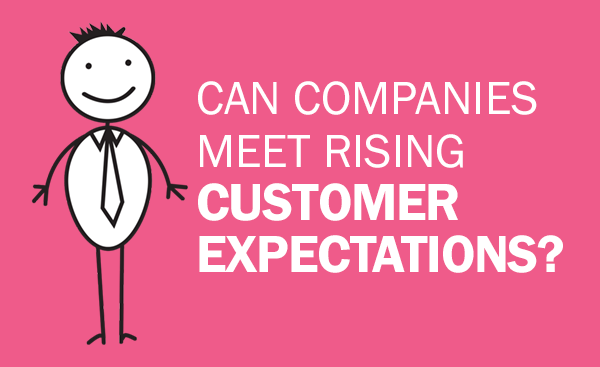 Think like a customer and value their time if you want to win and retain their business. These are the headline findings of recent research from Forrester, which looked at changing customer expectations and channel preferences. More than three quarters (77%) of those surveyed said that valuing their time is the most important part of delivering good online customer service. This translates into expectations of fast access to information - over half (55%) of US adults will now abandon an online purchase if they can't find a quick answer to their question.

The report, Channel Management: Core to your Customer Service Strategy, highlights three key areas which I see impacting multichannel customer service.
1 The rise of self-service
Customers don't want to waste time waiting for answers to basic questions, so are using self-service channels, notably company websites and IVR systems to find information for themselves in even greater numbers. For the first time, the Forrester research found that web self-service was used more often than picking up the telephone. Consequently companies need to ensure that they are providing comprehensive information on their websites, along with clear and seamless ways of escalating a query to channels such as email or chat if it requires more personal attention. Unlike when a customer sends an email or tweet, there is less of an audit trail when someone visits a company website and then leaves, but organizations need to track churn on specific pages and then improve self-service content to avoid potential loss of future business.
2 Patience is running out
The time consumers are willing to wait to get answers or have their problems solved has fallen dramatically. They expect a fast response, and are much happier to complain if they don't receive immediate satisfaction. They want the process to be simple and straightforward. Previous research from Forrester found that 41% of consumers expected an answer to their email within 6 hours, and an Eptica study at Christmas 2014 echoed that. It found that:
39% of consumers said they'd spend just 5 minutes looking for information on a website before giving up
60% will hold for 5 minutes on the phone before hanging up
56% expect an email to be answered within 4 hours
44% want a response to their tweets within an hour
In contrast, many companies work to much more generous targets, with many setting a 48 hour response time for customer emails. This seems to be wildly out of line with consumer timescales, and will cause customers to move to those brands that do meet their expectations.
3 Consumers are multichannel
The number of channels that consumers want to use has never been broader. The likes of chat and social customer service are supplementing, not replacing, the telephone and email. Many companies still receive letters and faxes. However, successful customer service isn't just about offering all of these channels, but in integrating them into a single, cohesive approach. Customers are not unichannel – they may start a query on the web, move to email or social media and then call or visit a branch or store. During this process they expect to get a consistent response that takes into account all of their previous interactions so that they don't have to repeat themselves. This goes back to making the experience seamless and not wasting their valuable time. Companies therefore need to build a single view of their customer and use this information to better meet their needs.
As the Forrester findings show, customer expectations are continuing to rise. The companies that succeed in understanding their target audience and provide the seamless service they require, time after time, are those that will thrive. Those that don't will see customers and business head elsewhere and will find it difficult to build loyalty going forward.
Categories:
Multichannel Customer Service, Self-service, Email Management, Customer Experience, Customer Service, Forrester, Top 2015
You might also be interested in these posts: