The continuing rise of self-service
Published on:
February 04, 2015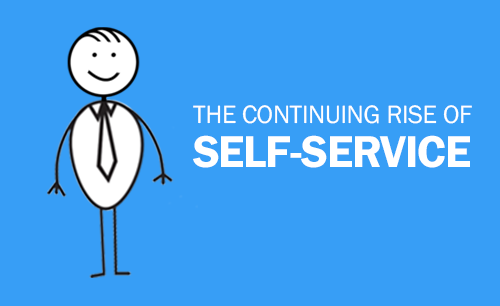 In a world that continues to get busier, customers increasingly value convenience and speed when interacting with companies. Whether it is buying from a local shop because it is easier than getting in the car and driving to an out of town supermarket, or banking via a smartphone or tablet, people want a seamless experience that minimizes the time they need to spend on activities. At the same time consumers are using more and more channels for communication, researching, and buying products – and want to be able to make their own choices for which channel they use at different points of their customer journey.
Companies need to recognize this and make sure that they are offering a straightforward, yet comprehensive customer service that values people's time and spans the complete range of channels that they use. In practice this means making it simple to get answers to their questions, however they are asked.
Traditionally the majority of customers found information and answers by calling a company. Not only was this time-consuming for the customer, as they often had to hold to speak to an agent, but it was also expensive for the company concerned. They had to staff call centers with lots of agents to meet peak demand, or risk annoying customers through lengthy hold times.
The internet fundamentally changed this, introducing the ability for consumers to find information online themselves, without needing to call or email a company. Self-service has been growing ever since, and according to Forrester we've just hit a major milestone – more people are using self-service systems and FAQ pages on company websites than are calling the contact centre. 76% of consumers reported using help/FAQ pages online, while 73% had phoned an organization. This is a major change since Forrester's last consumer channel survey in 2012 when the respective figures were 67% for self-service and 73% for the phone.
The Forrester research also points out three more interesting trends:
1. Changing demographics of self-service
Self-service is not just being driven by younger, supposedly more tech-savvy consumers. The two groups that had the greatest growth in usage were those aged between 59-69, and the over 70s. For all age groups, companies therefore need to make sure that it is simple to use self-service systems, that they are clearly visible on company websites and that they deliver fast, accurate answers.
2. Chat is growing rapidly
We've previously talked about the value that chat delivers to consumers. It provides the same ability to have a conversation as the phone, but is quicker and easier for consumers as they can begin a chat session without leaving their PC or mobile device. The rise of instant messaging apps means that chat is a familiar interface to consumers and they benefit from personalized answers and the ability to ask follow up questions as part of an interaction. Additionally, proactive chat that is triggered at particular points in the customer journey enables companies to help consumers when they may be stuck or confused, both improving the customer experience and helping increase sales. Forrester found that usage of online chat has risen from 38% in 2009 to 43% in 2012 and 58% in 2014.
3. Self-service channels are spreading
The 2014 Eptica Multichannel Customer Experience Study found that web self-service systems are the most commonly deployed ways of helping customers help themselves; with over half of companies we surveyed having implemented them. However, they are not the only self-service channel. As Forrester points out use of communities (where consumers provide answers to other customers' questions) and virtual agents both grew by 10%. Mobile and speech self-service are also growing. The lesson for companies is obvious – don't just rely on web self-service if you want to meet customer needs, but innovate to improve the experience.
Forrester's findings echo what we see amongst Eptica's customers. Consumers want to contact you through more and more channels, but want every interaction to provide a fast, accurate answer, valuing their time and delivering a superior experience. The companies that succeed will be those that can meet these needs, now and in the future.
Categories:
Chat, Contact Center, Customer Engagement, Customer Experience, Customer Service, Forrester, Multichannel Customer Service, Mobile, Self-service, Top 2015
You might also be interested in these posts: