Customer Experience in action through Artificial Intelligence
Published on:
April 26, 2017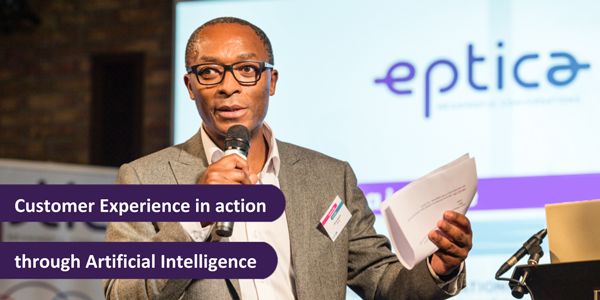 Winning and retaining customer loyalty is vital for every business. In the face of increasing competition and more demanding consumers, organizations therefore need to go beyond simply delivering excellent service and put customers at the heart of what they do. They must provide a consistent, high quality and personalized experience across every channel and touchpoint.
That's one of the key themes of the forthcoming Gartner Customer Experience & Technologies Summit, which will be held in London on 10-11 May 2017. The event will look at how organizations can shape the future of customer experience, and ensure that they have the vision, strategy and tactics to thrive in ever-more competitive markets.
Eptica is a platinum sponsor of the Gartner Summit, and, as well as exhibiting will be speaking alongside its global customer L'Occitane.
L'Occitane – global CX in action
Founded in 1976, L'Occitane en Provence manufactures and sells natural and organic cosmetics and well-being products all around the world. It is committed to developing and retailing high quality products that are rich in natural and organic ingredients of traceable origins that respects the environment. With a business turnover of €1.28bn, the group is now marketed under four brands (L'OCCITANE en Provence, Melvita, Erborian and L'OCCITANE au Brésil), sold through 2,900 stores across 90 countries. It has more than 8,000 staff around the world.
L'Occitane aims to provide its millions of global customers with a seamless, customer-friendly, cross-channel experience. As part of this the quality of service and experience need to be consistent, wherever in the world a customer makes contact, and whatever channel they use to talk to L'Occitane. To support this aim, it is using Eptica's artificial intelligence (AI) powered conversational and collaborative solutions to boost efficiency and sales across its operations, including in Europe, Japan and the United States.
At the Gartner Summit, Anne-Sophie Pouyau, Head of International & European Customer Service and Olivier Njamfa, CEO of Eptica will talk about:
How L'Occitane has planned its international, multichannel customer experience strategy to deliver a seamless, global approach
The personal service that L'Occitane is providing by linking customer information across multiple systems
Putting the Voice of the Customer at the heart of L'Occitane's operations across the world
How to set and measure global metrics in multiple languages, cultures and countries, and to manage a truly worldwide team
The importance of artificial intelligence in delivering a better, more efficient service, underpinning meaningful conversations between L'Occitane and its customers.
To find out more about L'Occitane's CX strategy and results, come along to the presentation on 10th May 2017 at 4:45pm at the Gartner Customer Experience & Technologies Summit or visit our stand at the event. We look forward to seeing your there.
Categories:
Trends & Markets, Artificial Intelligence
You might also be interested in these posts: