Customer Experience - disrupt or be disrupted
Published on:
November 18, 2016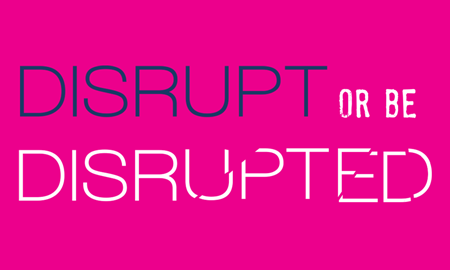 Whatever market they are in, organizations face a stark choice – innovate across their operations and get closer to customers or lose market share to more agile, flexible rivals. The forthcoming Franco-British conference 'Disrupt or Be Disrupted' will look at the impact of this changing world and how companies of all sizes can understand and compete in it. To be held on 21st November 2016 in central London, Eptica will be exhibiting, alongside speakers who will include:
Matt Hancock, British Minister of State for Digital and Culture
Axelle Lemaire, French Minister of State for Innovation and Digital Affairs
Sebastien Basin, Chairman and CEO, Accor Hotels
Philip Chalmers, Atos
Christophe Chazot, HSBC
Martin Hill-Wilson, Brainfood Consulting
What you deliver to customers is central to success in this disruptive economy. Companies therefore need go beyond simply meeting the needs of their customers by getting closer to them and providing a personalized, memorable experience. As part of the panel discussion customer engagement expert Martin Hill-Wilson will talk about what disruption means and its real-world implications.
When it comes to customer engagement how can brands ensure that they are disrupting, not disrupted? Based on Eptica's experience here are four ways to innovate:
1. Connect emotionally on digital channels
More and more customer contact is through digital channels, and this brings its own challenges. Without the context of face to face or telephone conversations it can be difficult to either connect emotionally with customers, or even understand what they are asking on channels such as email and social media. Use artificial intelligence and cognitive technologies to help. By analyzing and understanding incoming digital interactions, natural language understanding (NLU) assists agents in getting to the root of what customers want, and allows them to provide personalized responses that meet their needs, helping strengthen emotional connections.
2. Break down barriers with customer hubs
Traditional businesses tend to be organized in a departmental structure that has grown up over time. While this has some advantages in terms of internal focus, it can create barriers to collaboration and delivering a seamless customer experience. By contrast startups have a more flexible, agile structure that makes it easier for them to focus the whole organization's resources and skills on delivering a superior experience. To compete, existing businesses need to bring together different departments and remove internal silos. One method of achieving this is by creating customer hubs, which create physical teams with a range of skills, located in the same place and working together to solve customer issues.
3. Make it easy for customers to have conversations
Disruptive businesses build strong engagement with their customers and are seen as open, accessible and easy to do business with. They put their customers first, helping turn them into advocates that are happy to endorse a brand and its products to their friends.
The first step to achieving this is making sure you value your customers' time by letting them contact you through their channel of choice, whenever they want. Empower your agents with information and training to enable them to have meaningful conversations that quickly and comprehensively answer customer questions, every time they make contact.
4. Make customer service everyone's job across the enterprise
Consumers want fast, consistent answers to their questions, whoever they are talking to within an organization. This means that customer service is part of everyone's job description, whether that they are talking to customers over the phone, working in a branch office or even carrying out back-office roles. Companies need to make sure that they are accessing all the skills and knowledge spread across the organization and connecting it to customers so that they receive a superior, consistent experience. This means putting in place the right workflow to forward relevant queries to the right people and ensuring they are answered quickly and comprehensively.
Disruption is now a fact of life for businesses in every sector. Existing businesses therefore need to put the customer experience first, and continually innovate if they want to survive and thrive in ever more competitive markets.
Categories:
Artificial Intelligence, Trends & Markets
You might also be interested in these posts: