Customer service and Christmas deliveries
Published on:
December 19, 2014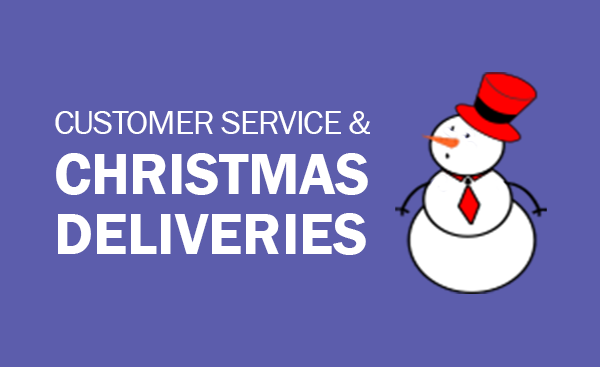 For many people, online is becoming the default channel for buying Christmas presents, with trips to the High Street relegated to either window shopping for ideas, top up purchases or to pick up Click and Collect orders. Consumer research from Metapack found that 22% of UK respondents planned to do almost all their Christmas shopping online, rising to 29% among the 35 to 44-year-old age group. 85% were opting for home delivery – even though two thirds (67%) worried about its reliability.
Unfortunately in many cases these worries have come true. For example, delivery giant Yodel had to suspend the collection of orders from its retail clients while it cleared a backlog of presents generated by increased sales on Black Friday. While Marks & Spencer was forced to delay deliveries due to problems at its distribution centre.
Alongside the rise of online shopping there are two key trends leading to these potential delivery issues:
1. The need for speed
Customers are demanding faster deliveries of their orders than ever before. Rather than weeks, leading retailers are now promising next day delivery in many cases, with smaller time slots to avoid customers having to wait in all day for their parcel. This all requires slick systems if retailers and their delivery partners are going to meet customer expectations.
2. Difficulty of predicting peaks
The shape of Christmas shopping is changing. The UK has enthusiastically embraced Black Friday and Cyber Monday, with customers placing their orders early. Indeed, Eptica consumer research found that a week after Black Friday, 52% of consumers had already done over three quarters of their shopping, with 16% claiming to have completed it. But new key dates keep emerging – this year Manic Monday (the second Monday in December) saw £666m spent online. There are multiple peaks and it is difficult for retailers and logistics companies to predict which will impact them most.
While the majority of retailers outsource delivery to logistics companies or the Royal Mail, the customer is still buying from them, and therefore rightly holds them accountable for getting their presents on time, undamaged and to the right address. Nearly 60% of consumers said they would be less or very unlikely to order from that retailer again if they had a bad experience – and 78% said they'd tell their friends about it. On the positive side, the Metapack research found that nearly all (95%) of consumers said a positive delivery experience would make them more loyal to a particular retailer.
So how can retailers make sure they are managing the vital delivery process this Christmas? There are five areas to focus on:
1. Encourage Click and Collect
Retailers have more control over Click and Collect as goods are dispatched from their warehouse direct to store. The added benefit is that by bringing consumers into their shop, they can upsell and cross-sell other items. Therefore retailers need to encourage people to use this method by making it easy, seamless and straightforward and explaining its advantages online.
2. Make tracking self-service
Ensure that your distribution partners are sharing information with you, so that your customer service agents can track the progress of a consumer's delivery without needing to refer a query to the logistics provider. Even better, make this information available via your website so that consumers can track their own parcel without needing to call or email.
3. Keep in touch Many consumers worry that after they place their order they have no idea of when their package will be dispatched or delivered. Communicate regularly at key milestones and use email and SMS to confirm the final delivery date or time, maximising the chance of someone being in to sign for it.
4. Prioritise delivery enquiries
A huge proportion of customer service enquiries at this time of year concern deliveries, so make sure you are making them a top priority. Prominently display information (such as last guaranteed delivery dates) on your website and consider setting up dedicated hotlines for concerned customers.
5. Manage the relationship
The customer has bought from you, the retailer – and as the research above shows, if they get a poor delivery service will rightly hold you responsible. Therefore manage queries, follow up with courier services yourself and aim to provide the customer with a fast answer, rather than simply passing on the details of the logistics provider.
With online sales expected to hit £4.7 billion this year, delivery is a key part of the jigsaw for retailers if they want to be successful. Customer service needs to be in control of the process, with information easily available to answer queries across every channel or dissatisfied consumers are likely to take their business elsewhere.
Categories:
Contact Center, CRM, Customer Engagement, Customer Experience, E-commerce, Multichannel Customer Service, Retail, Self-service
You might also be interested in these posts: