Earn Your Customers' Trust, And Loyalty Will Follow
Published on:
February 20, 2019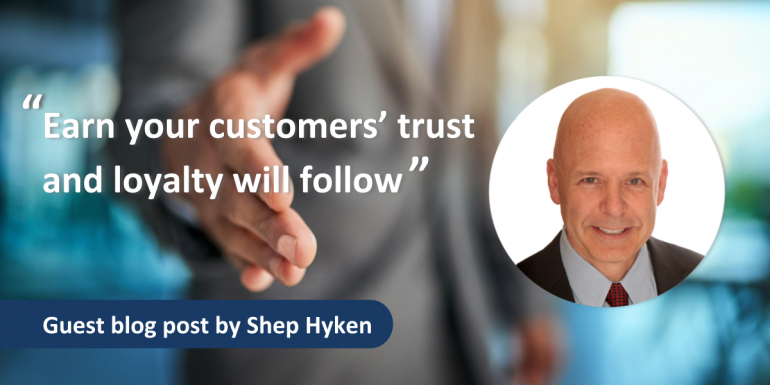 Do your customers trust you? How do you even know if they do, and why is it important? On a very basic level, people want to do business with other people that they know, like and trust. If you have an ongoing business relationship, customers will come to feel that they are getting to know you – and that you are getting to know them. And, if you are nice to your customers by being approachable, attentive and respectful, they would probably say that they like you as well. But what does it take to truly earn your customers' trust?
At the heart of any business dealing, there is a seed of trust. We trust that when we go to the grocery store, the aisles will be well stocked and the food will be fresh. We trust that when we go to a restaurant we'll get good customer service and good food that is prepared properly. We trust that when we order merchandise online, the items will show up on time and in good condition.
So, assuming that you are meeting customers' needs by having a quality product that is readily available, how do you make that seed of trust grow? Earning customers' trust does not happen overnight, but it is worth striving for. Creating trust is paramount to creating customer loyalty.
There are businesses that I, as a customer, trust implicitly. A couple of examples:
The magic shop – As a kid, I started a business performing magic at birthday parties. I met Al Cohen, who owned a magic shop in Washington, D.C., and over the years I became a regular customer. One day he said to me, "Shep, I know what you like. I get new magic books and props in here every week. If you want, I can take your credit card number and send you whatever I know you'll want. If I'm wrong, send it back." Without hesitating, I handed over my credit card info. Every so often I would receive a package from Al's shop. He was never wrong. Not once did I return an item. He knew me so well – and treated me so well – that I trusted him.

The mechanic – Some years ago I bought a little convertible on eBay for a few thousand dollars. It was 35 years old, but it was fun to drive and mechanically sound. However, most regular car dealers wouldn't work on it because of its age and the difficulty in finding parts. I found a mechanic who had a small shop and knew how to work on older cars. I remember taking my car in for service and asking him, "What's this going to cost me?" He replied with a smile, "Half of what the dealer charges. You'll have to trust me." Well, I did, and he never disappointed me. Whenever he worked on my car, it always cost less than I thought it would, and I'm sure at least half of what a typical dealer would charge. I'm glad I trusted him.
It doesn't matter what type of business you are in, trust creates loyalty. Earning your customers' trust typically takes time. It comes from a predictable and consistent set of experiences. Your customers know what to expect, and you deliver every time. They also know you won't take advantage of them.
So, do your customers trust you? How do you know? Aside from repeat business, referrals and accolades, there is one word that you are looking for them to use as they describe you. That word is always.
They are always so nice. They always take care of me. I can always count on them. And, when there is a mistake or a problem, they always fix it.
How do you get to that level of trust? How do you get the word always to be part of your customers' description of you?
Be respectful. Show up on time. Say please and thank you. Customers expect, at the very least, to be treated with courtesy and professionalism. Respect your customers' time. For example, if they are willing to share their email address, don't waste their time by sending a flood of promotional messages.
Create consistency. Customers want an experience they can count on. This includes your product or service, delivery, and the customer experience. In particular, customer service must be consistent across the board. Employees on the front line of customer service must have not only the right personality and attitude but also a consistent knowledge base to be most helpful to the customer.
Eliminate friction. Look for ways to reduce frustrating, time-consuming experiences the customer may encounter, whether it is a long line at the checkout, a long hold time, complicated forms, or anything else. Track the customer experience and find out what your friction points are, and then do your best to eliminate them.
Make it right. Even though your goal may be to deliver a perfect product and amazing service all the time, eventually something will go wrong. Nobody and no organization is perfect. What's important is having a system in place to fix the problem and restore the customer's confidence.
There are many more ideas and strategies we could add to this list, but it is a good starting point to establishing more trust with your customers. Create an easy, consistent experience and treat your customers with respect – especially when something goes wrong. They will begin to trust you. They will come back, spend more and recommend you to their friends and colleagues. Trust me. It's true.
About Shep Hyken
Shep Hyken is a customer service & customer experience expert, award winning keynote speaker, and New York Times bestselling business author. For information on The Customer Focus™ customer service training programs, go to www.thecustomerfocus.com. Follow on Twitter: @Hyken
Categories:
Best Practice
You might also be interested in these posts: