Escaping the downward customer service spiral
Published on:
July 30, 2014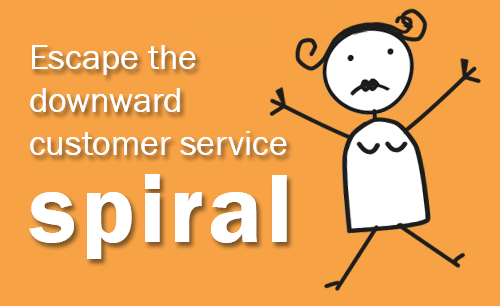 Customer satisfaction with UK companies is worsening. That's the stark headline finding from the latest Institute of Customer Service (ICS) UK Customer Satisfaction Index (UKCSI).
Researched every six months, the Index fell in July 2014 for the third consecutive time, with over half of organisations seeing a drop of at least one point in their ratings. Satisfaction levels fell in 12 out of the 13 sectors surveyed and just 28 out of 197 organisations saw their scores rise.
Running since 2009, the UKCSI is based on nearly 41,000 responses from 9,522 demographically representative customers from across the UK. Overall the index score of 76.3 out of 100 is 1.9 points behind the peak of 78.2 from January 2013, and down 0.8 points from 77.1 in January 2014. For the first time responses were broken out by age group, with younger people, on average, less satisfied than the older age groups.
So what is driving this continued fall – and how can it be arrested? The ICS research talks about five areas that could be behind the decline:
1. Higher expectations
The first thing to realise, as the ICS points out, is that consumer expectations are continually rising. Service levels that were considered good six months ago are no longer adequate as customers continually demand more
2. Underinvestment
The impact of the recession is still being felt as previous cuts in customer service budgets have yet to be addressed.
3. Change of focus
During the downturn many companies focused on retaining their existing customers. As we move into growth, there is a corresponding push by companies to expand aggressively and chase new customers, potentially to the detriment of existing business.
4. Evolving needs
We are moving into a genuine 'relationship economy' where customers are looking beyond price to areas such as convenience, ease of doing business and speed across multiple channels. Therefore, companies have to engage successfully with changing customer needs if they are to retain them.
5. Trust
There is an increasing focus on how businesses behave, with scandals around operating practices such as tax avoidance, impacting customer perceptions. Stories spread quickly over social media, meaning companies are continually in the public spotlight. Overall the UKCSI findings point to a need for greater engagement with customers, understanding their needs and quickly delivering what they are looking for, while building an emotional bond between the brand and consumer. Service is at the heart of this and there are four areas that Eptica believe companies should focus on:
1. Lead from the top
The customer experience and satisfaction levels are vital to organisational success. They shouldn't just be left to the contact centre. The customer relationship is part of everyone's job so initiatives should start at board level and involve the entire organisation.
2. Move fast
ompanies have to be flexible and ready to change quickly as customer needs evolve. At the heart of this is better understanding of what customers want, so companies should look at technologies such as linguistics and customer feedback to analyse interactions on a large scale.
3. Join up service
Organisations have to deliver service across multiple channels, but in a joined-up, consistent way. This means bringing together processes and information so that they can be accessed by everyone involved in the customer journey – whether staff in branches or shops, outsourced contact centre partners or in-house agents.
4. Benchmark beyond your peers
Customers expect the same high levels of service from a utility as a retailer, raising the bar for everyone. Therefore, while organisations should benchmark against their nearest competitors, they must also look further afield and see what they can learn from companies in completely different industries.
The continual fall in customer service is worrying for the whole UK economy – the service sector is responsible for 78% of UK GDP and 70% of the population are in customer facing jobs. Such is the level of concern that the All-Party Parliamentary Group on Customer Service has been set up, with the aim of increasing awareness and increasing the quality of service and engagement. With the move to a relationship-based economy, now is the time for companies to review their processes and get closer to their customers if they want to succeed and escape the downward customer service spiral.
Categories:
Contact Center, Customer Engagement, Customer Experience, Agent Knowledge Base, Linguistics, Multichannel Customer Service
You might also be interested in these posts: