Happy birthday email!
Published on:
September 12, 2014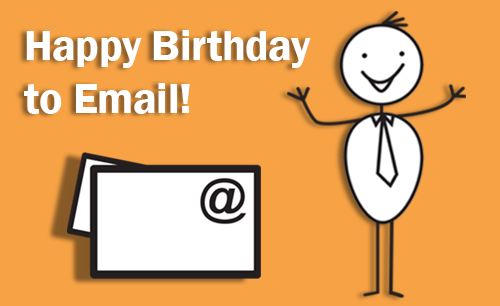 It may surprise people that this year marks the 32nd birthday of email, with the original copyright on a program to send and receive emails granted in 1982. That is seven years before Tim Berners-Lee developed the World Wide Web while working at CERN.
Over the last 30+ years email has changed the way we communicate at work and play with 114.8 billion emails now sent on a daily basis. And this number continues to grow despite the advent of new channels such as social media and web chat.
However, whilst volumes increase, the way we send and receive emails is changing. According to SendGrid, one of the world's largest email delivery companies, more emails are now opened on Apple platforms such as iPads, iPhones and Macs than on Microsoft Windows (which tends to be mostly desktop PC based) devices. In the UK these figures are even more marked with nearly half of all emails opened on an iPhone. Essentially mobile devices are driving greater use of email, rather than diminishing its reach. People can answer on the move, rather than just when they are at their desks or home PCs.
The importance of email to customer service
Email remains a central as well as an essential channel for customer service and engagement. There are number of reasons for this. Customers like its flexibility and the fact that they can choose when to send or reply, putting them in control. Indeed analyst firm Forrester tells us that 58 per cent of customers want to communicate with companies by email. Equally it can make life easier for businesses as it isn't real-time, which gives agents time to think and craft a considered response. A written record of the conversation can also be valuable for analytics and help avoid re-work when picking up an open query with a customer, as well as for regulatory reporting.
However, many companies are neglecting email. The Eptica Multichannel Customer Experience Study evaluated 100 leading UK companies on their ability to provide answers to routine questions via email and a range of other channels. It found that just 60% of companies responded to a question emailed to them – and just 41% successfully answered it. This means an astonishing six out of ten customer questions are not being dealt with.
And on average it is taking up to 61 hours and 39 minutes (nearly three whole days) to provide a successful response back to the customer. This is wildly out of kilter with Forrester research which shows that 41 per cent of customers expect a response to their email within six hours. Just 18 per cent of companies are delivering on this.
Improving email performance
As the statistics show, the number of emails companies receive are continually increasing, meaning that any issues with email management are only going to become worse over time. So what can companies do to improve their response times, response rate and accuracy?
Some of the answers are obvious. There needs to be a culture that says leaving any customer communication sitting unanswered for three days isn't acceptable in today's world, backed by a corresponding investment in people, process and technology to bring down response times. Companies need to ensure they are meeting customer expectations when it comes to email.
Linguistics-based email management technology can also help deal with growing email volumes in four key ways:
1. Faster responses
By understanding incoming emails, linguistics can automatically suggest answer templates to agents that they can personalise to the individual customer's query. This increases agent productivity, while delivering consistency, speeding up response times, removing backlogs and improving customer happiness
2. Improve understanding
Linguistics allows firms to analyse the tone of an interaction quickly and easily. This can then be used to both prioritise and route the message, and for longer term analytics.
3. Deliver joined-up service
Linguistics can take the hard work out of connecting multichannel conversations. For instance it lets you extract information freely provided by customers within incoming emails (such as in the signature) and cross-reference/update the master customer record (i.e. in a CRM system). This gives a more cohesive view of the customer, refining the multichannel service you can provide.
4. Greater efficiency
Linguistics can route emails to the right department or agent first time, reducing handling time and ensuring quicker, more informed answers.
In a world where it may seem that new customer service channels are invented every few weeks, there can be temptation to embrace the new. Yet email will be with us for a very long time. The same Forrester study that looked at email preferences found that nearly 70 per cent of those born after 1995 want to contact firms via email. This same 'Generation Z' is already on Twitter, Facebook, Snapchat and Pinterest but they also want the flexibility of email too and this won't change overnight. So make sure you have the technology infrastructure in place to deliver quickly and consistently on the email channel, now and in the future.
Categories:
Contact Center, Customer Engagement, Customer Experience, Customer Service, Email Management, Forrester, Linguistics
You might also be interested in these posts: