Happy Holidays? How good is retail customer service?
Published on:
December 04, 2015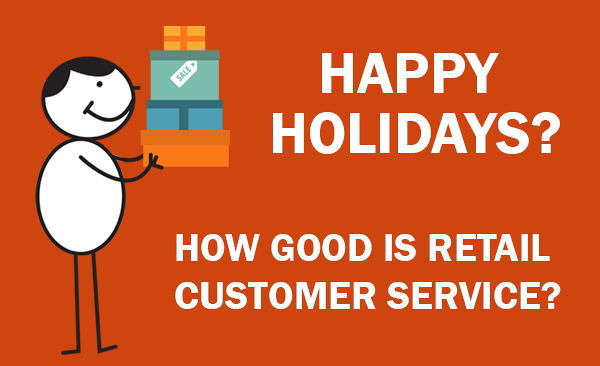 With so much money spent at this time of year, the Holiday period is crucial for retailers. In today's competitive industry, a good Christmas can literally mean the difference between survival and going bankrupt. But getting it right isn't easy – the internet has greatly increased competition, putting pressure on prices, while consumer demands are ever increasing. They want top quality service, whatever the channel or device they choose to contact you through – and they demand that responses are quick, accurate, and fully answer their query.
To see how retailers are coping with these pressures, Eptica carried out consumer research on Cyber Monday (November 30) to gauge the mood amongst shoppers. We wanted to see:
How satisfied they were with the service they'd received
When they were shopping, and through which channels
How easy they found it to locate information on company websites
How much of their shopping they'd already completed
The 2015 Eptica Retail Holiday Customer Experience Study surveyed 1,000 American and 1,000 British consumers and in this blog I'll focus on key findings from the U.S. part of the research.
There were three key points:
1. Customers are not happy with service levels
35% of American consumers were dissatisfied with the experience they received online during November 2015. This means that over a third of them had an issue, couldn't find what they were looking for, or suffered some other form of poor service. 18% said it was impossible or extremely difficult to locate the information they wanted on retailers' websites. In comparison, 37% said they were extremely satisfied online. Figures were worse in store, with 40% unhappy and only 30% professing themselves extremely satisfied.
Essentially this points to a chasm between the best and worst retailers – some providing a stellar customer experience and others leaving customers frustrated and unlikely to buy from them again. At a time when every sale counts, retailers need to make sure they are upping service levels to meet customer needs.
2. In store mobile is becoming a key channel
Showrooming – checking out products in a physical store and then buying online – is both an opportunity and a threat for retailers. If they can deliver a superior in store experience then they can convert footfall into sales and even upsell products. However, if the experience is bad customers will simply buy elsewhere from rivals.
The research found that showrooming is a growing trend, with customers increasingly using their smartphones in store to make purchases. On the positive side nearly a quarter (23%) of consumers said they'd bought from the website of the retailer they were visiting, while still in store, while 20% had purchased from a rival. However, nearly half of those that bought in store via smartphones complained about the service – 49% in the case of those purchasing from the retailer they were in and 48% if buying from another company. This shows the importance of being able to provide the right information at the right time to customers to help them move swiftly through the purchasing process, whatever channel they are using.
3. Shopping patterns are changing
Black Friday and Cyber Monday are still key dates in the shopping calendar, but when and how people shop seems to be in a state of flux. While 24% bought items online on Black Friday and Cyber Monday respectively, 29% purchased products online before these dates – and a further 37% didn't make any purchases at all before the end of November. Debate rages over shopping on Thanksgiving itself, but it seems popular with consumers. 18% bought items in store and 15% purchased online on the day itself.
Over a fifth (21%) said they hadn't started their Holiday shopping at all, with a further 14% completing under a quarter of their planned purchases. 21% of Americans had completed over three quarters of their shopping and 10% had finished it all.
The majority of consumers (63%) purchased products online in November 2015, with over half (56%) buying in store. Add in the 23% buying on smartphones while in store, and it demonstrates today's multichannel retail landscape.
The changing nature of shopping means that retailers can't solely focus on traditional seasonal peaks – they need to have the resources and technology in place to meet customer service requirements across the entire Holiday period (and beyond).
The unsatisfied and unhappy consumers uncovered by the research backs up other recent Eptica research. The 2015 Eptica Retail Multichannel Customer Experience Study found serious failings in the customer experience when it came to responding to questions online, via email, Twitter, Facebook and chat. For example, retailers could only answer 20% of questions sent via Twitterand 54% of Facebook messages.
Taken together these two pieces of research show that customers are becoming more demanding and are unwilling to put up with what they see as substandard service. Retailers therefore need to heed these lessons and ensure they can deliver the Holiday service required – or face a bleak New Year.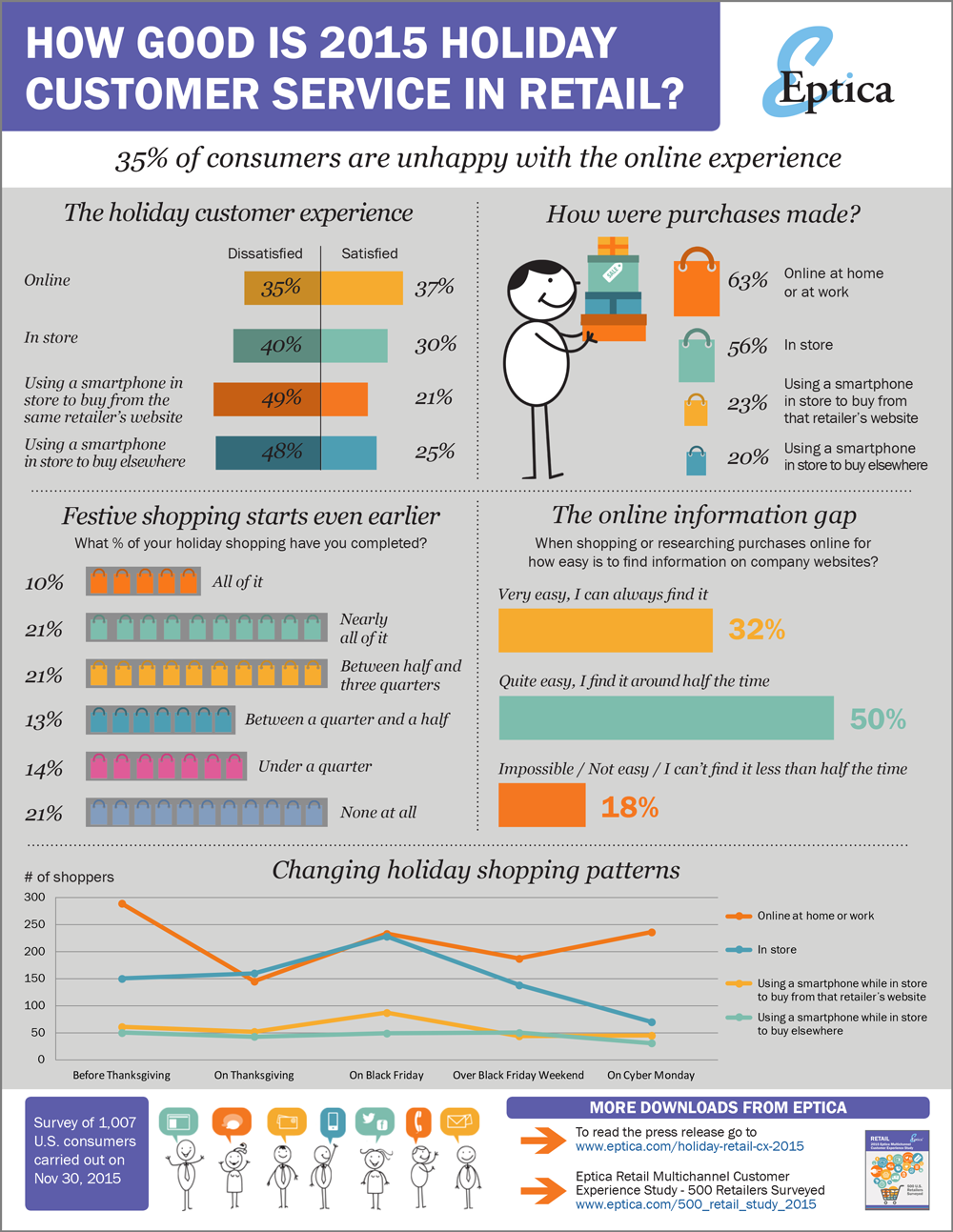 Click here to view an infographic on the Holiday season research. You can read more about the 2015 Eptica Retail Multichannel Customer Experience Study and download your own copy here.
Categories:
Contact Center, Customer Engagement, Customer Experience, Customer Service, E-commerce, Mobile, Multichannel Customer Service, Retail, Social Media
You might also be interested in these posts: