How close are we to the omnichannel future?
Published on:
November 05, 2014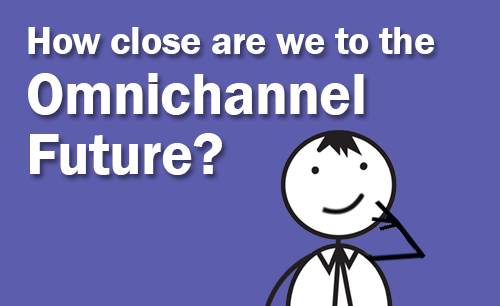 Customer service is continually evolving. Driven by customer needs and channel expansion the original telephone-only call centres have added new contact methods, such as email, chat and social media, to become multichannel customer engagement centres. However the biggest shift is still ongoing – from a silo-based channel by channel approach to a more integrated, seamless and consistent omnichannel operation.
Essentially omnichannel means allowing customers to contact you through their channel of choice, at any time, and change channels during an interaction without it impacting the service they receive or having to repeat themselves. In an omnichannel world the experience is based on what the customer wants, rather than consumers being forced to use specific channels by the company they are contacting.
So how are companies coping with the move to omnichannel? New US research on the omnichannel experience from Call Center IQ makes for depressing reading. Nearly every company surveyed (96%) understands the importance of delivering seamless, consistent, customer-led service. However, the majority admit that they are nowhere near providing this. In fact, while 52% view serving a customer on the channel of their choice as very important/essential, only 30% say they can do this with any regularity. 7% simply say they are not a multichannel business.
Moving on, just 10% of companies currently define themselves as omnichannel, with the same percentage believing they have made significant progress towards the goal. 39% of businesses have made some or little progress towards omnichannel, yet believe it is not urgent to improve.
There is a clear gap developing between the best and worst, which seems to be caused by differences in business priorities, attitude to customers and technology:
Nearly half (48%) of companies rate being able to serve a customer on his or her preferred channel as moderately, slightly or not at all important.
Just 4.5% say they can always comply with a customer's channel preference (although 32% say they can 'usually').
Technology is an issue – 30% say they are not at all successful in being able to pass data between channels in real-time.
11% have no plans to develop a holistic, cross-channel view of customers, though an additional 70% are working towards this.
So how can companies bridge this gap to the omnichannel future? The first point to make is that isn't easy. Channels have grown organically, interaction volumes are up and customers continually expect faster responses that answer their queries – and are happy to move elsewhere if they don't get what they want. Businesses need to focus on five areas:
Provide the right channels – customers want you to be contactable on their channel of choice. So make sure you understand your demographic and match their needs. For some businesses this could mean keeping paper-based channels such as fax and letter, if that is what customers want.
Seamless channel switching – you need a holistic view of the customer that spans your entire customer service operations and allows consumers to move between channels without needing to repeat themselves or re-enter details. This has to be real-time and scalable to cover new channels as they are added to your operations.
Consistency – customers want the same answer, whatever channel they use to contact you on. A single knowledgebase that underpins customer service operations delivers this, while also driving efficiency across the business.
Speed – as we've previously said, customers expect responses in shorter and shorter timeframes. And they don't care about concepts such as business hours – they want 24x7 service that matches their needs.
Skills – successful call centre staff were good talkers, able to build empathy on the phone. Digital channels, such as email, chat and social media all require different skills, with a greater emphasis on written language – although there is a wide variation within them.
Customers are demanding omnichannel service, and, as the CCIQ study shows, the vast majority of companies know they need to be providing it. With the impact of poor service increasingly felt on the bottom line, now is the time to invest if companies are to thrive and grow.
Categories:
Chat, Contact Center, Customer Engagement, Customer Experience, Customer Service, Email Management, Agent Knowledge Base, Marketing, Multichannel Customer Service, Self-service
You might also be interested in these posts: