How does customer experience affect sales growth?
Published on:
November 16, 2016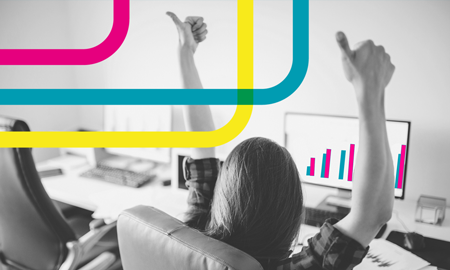 Customer experience has been front of mind for marketing and customer service professionals for a number of years, but does it really have a big impact on the bottom line?
It seems obvious that if customers have a good experience when dealing with your company it increases the chance they'll return in the future. They will also be more likely to spend a greater amount with you and potentially to recommend you to others. Therefore, you would imagine that there is a direct positive relationship between customer experience and a company's ability to grow its revenue. The question has always been how to prove it, particularly given the number of factors that contribute to financial success.
Forrester Research analyst Harley Manning has tested out multiple ways to find this proof. In 2015 he examined the difference in revenue growth between pairs of similar US businesses in five sectors (cable communications, airlines, investments, retail and health insurance). In four out of the five sectors, the company that had a significantly higher customer experience score, had a higher rate of revenue growth. In the fifth sector (health insurance), Manning concluded the rule possibly did not apply because in most cases health insurance is bought by companies on behalf of their employees – and corporate buyers are less likely to switch suppliers due to customer experience compared to individuals.
In 2016 this initial study was expanded, examining company CX and sales performance for companies in the same five sectors between 2010 and 2015. And this time the positive impact of CX on sales was clearly seen in every one of them. In fact, the CX leaders in the analysis demonstrated an annual growth rate of 17% – compared with just 3% for the CX laggards. Comparing the cable industry, leaders grew internet subscribers by 23.9% more than others, and video subscribers by 13.9%.
The European Perspective
This methodology has now been applied to European companies, and the results demonstrate the same relationship between a company's CX and its revenue generating potential - in all sectors that were examined. Most notably, in the UK telecoms sector – where competition is very intense - the compound annual revenue growth rate and customer growth rate of the CX leader was 10x higher than the company that lags behind in CX.
In a recent Forrester podcast about this latest European study, Manning touches again on the conditions that need to exist if CX is going to have an effect on revenue growth:
1. There needs to be differentiated levels of customer experience within a sector
2. Customers should be easily able to switch supplier
Taking the first point, if companies in a sector all offer high levels of customer experience then it's more difficult for one of the players to see a lasting effect on revenue growth. Each time a company makes an improvement in the customer experience, its competitors will just copy it. This is obviously good news for customers and shows a commitment to continuous innovation when it comes to improving CX.
However, it can be difficult for companies to differentiate in a lasting way. In such a scenario, you therefore need to find an aspect of customer experience that others cannot easily copy. This could be something that ties in closely with your brand or company culture and links to what you do and stand for. For example, US investment firm Edward Jones has built its reputation on delivering a high level of customer experience tailored towards the market segment that only wants to receive investment advice face-to-face rather than online or by phone.
As the analysis shows, if your company operates in a market where businesses generally do not yet deliver a highly tuned customer experience, then you have a big opportunity. Focus on customer experience, set the benchmark for others and differentiate yourself through the service you offer. As Forrester's research shows, you'll feel the positive impact on your revenues, whatever industry you operate in.
Categories:
Best Practice
You might also be interested in these posts: