How to make customer experience improvement a continuous process
Published on:
July 27, 2015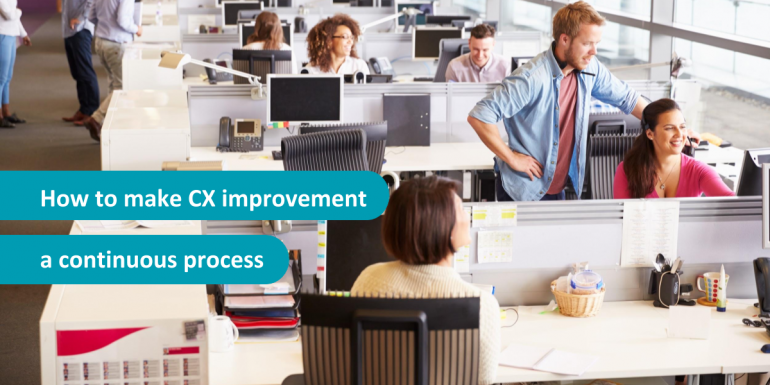 Today, all organizations understand the importance of improving the customer experience they provide if they want to succeed in winning business and increasing loyalty. The customer experience should be improved constantly, otherwise even once leading companies will simply fall behind their competitors and customers will move elsewhere.
Companies require an effective management process to succeed in continually improving customer experience. This needs to cover all the stages of identifying, developing, implementing and measuring customer experience, in order that all projects achieve their goals and deliver real benefits.
The Cranfield Management Forum (CCMF) has written a white paper that sets out the seven stages that organizations should follow in order to help create their own management processes for customer experience. Based on analysis of winning entries in the UK Customer Experience Awards, the stages are:
1. Insight gathering
It may sound obvious, but customers are the best source of information on what can be improved across the experience they receive. Therefore companies need to put in place ways of gathering their feedback, from focus groups to surveys. It is also important not to neglect the information that they give when they interact with you. Valuable information can be gathered through channels such as email, web self-service and social media. Are there certain subjects that come up frequently and need addressing? Match this data with more traditional research to see where customers would like you to improve.
2. Identifying opportunities
As well as improving existing processes, companies need to look at areas where they could innovate, radically changing how they operate to add value and benefit customers. For existing customers, this could include prioritizing the changes that will have the highest impact on loyalty and focusing on these. To target new customers, companies should look at new ways of reaching their target audiences – potentially through new channels or by simplifying the customer journey to remove roadblocks that stop people buying.
3. Planning
Once you have identified an opportunity, it requires rigorous planning to ensure that the project will deliver the right results. Normally the customer journey spans multiple departments, so you need to ensure that everyone is involved and bought into the project. Have you got the right resources (budgetary and technical) in place to achieve your objectives? Does the project align with your brand and core values, as well as what customers are looking for? How long will it take – and are customers willing to wait that long?
4. Implementation
For projects to succeed, all staff from frontline agents to management, need to feel involved. This means it is vital to make them feel it is their project. This can be achieved in a number of ways, such as by getting agents to name the system that they will be using, as the NHS BSA did successfully with its Sherlock knowledge management system. Having straightforward, measurable objectives and deliverables also helps to make it clear what people can expect from the project. Before full roll-out, you should test the experience extensively, both internally and with selected customers to check that it matches their needs.
5. Monitoring
Few projects deliver all of their benefits from day one. Therefore, companies need to put in place measurement and monitoring to capture before and after improvements on an ongoing basis. What has changed in the first week, month or quarter? Are there areas where targets are not being met, and if so what can be done to change this? By using the measurement of metrics such as service quality, customer retention, satisfaction, value and Net Promoter Score (NPS), companies can see exactly how a project has improved the customer experience.
6. Improvement
As well as introducing new innovation, companies need to continually improve existing experiences. This involves listening to both customers and frontline employees to identify pain points within the journey and assessing how they can be overcome. It could be something as simple as changing the text on a website page to make it clearer or finding quicker ways of answering emails. All of these corrective actions may be small on their own but can make the difference between losing and retaining a customer.
7. Delivery
Even the best-designed customer experience improvements will fail if they are not delivered well. Do customers react well to the changes, and does it improve the experience as planned? Are there any knock-on effects on other parts of the experience or does it increase the workload of frontline agents, putting new strains on their time? Monitor how the delivery of a new project impacts relevant parts of your business, and be flexible enough to make changes to address any concerns that arise.
The need for ongoing customer experience improvement means that the process needs to be managed effectively, or else it will fail to deliver what customers want. Companies need to adopt a framework to achieve this or risk falling behind their rivals in an ever more competitive world.
Categories:
Chat, Contact Center, Customer Engagement, Customer Experience, Customer Service, Email Management, Marketing, Multichannel Customer Service, Self-service
You might also be interested in these posts: