How to prevent utility customer service delivering a shock
Published on:
October 06, 2015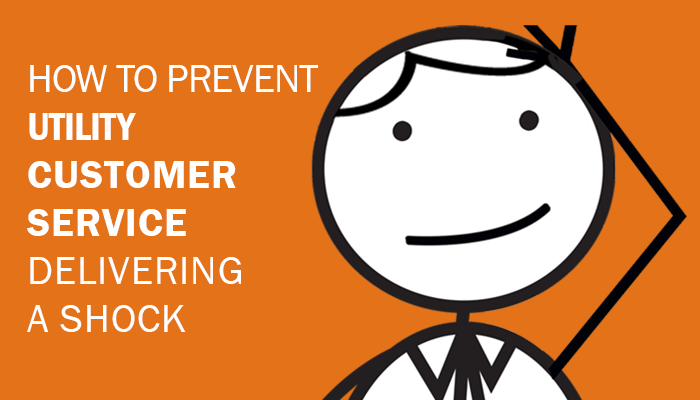 Recent research from charity Citizens Advice found major differences between how UK utilities handle customer service. The top performing utility (SSE) received just 47 complaints per 100,000 customers, yet another had 944 – over 20 times more. A further four companies had over 400 complaints per 100,000, within the three months between April and June 2015. The figures are based on a combination of complaints made to the Citizens Advice Customer Service, the Consumer Futures Extra Help Unit, and to Ombudsman Service.
In many ways the Citizens Advice research mirrors the findings of the 2015 Eptica Multichannel Customer Experience Study. This analyzed ten leading utilities and found that, on average, performance in the sector had worsened on email, chat and Twitter, and remained static on the web, since 2014. A gulf is developing between best and worst – one company provided answers to 100% of questions asked on its website, yet another scored just 10%.
Clearly, many utilities need to focus on improving customer service, particularly given looming government regulation and a consumer backlash against perceived high charges. So how can they better connect with customers? Here are six areas to focus on:
1. Improve self-service
Making it easier for customers to access their account details and to find routine information has a dual benefit. Consumers don't need to email or call if they have questions, increasing engagement, while it reduces costs for the utility. Web self-service systems, which allow customers to ask questions in plain English and get fast, consistent answers should therefore be the cornerstone of online customer service, yet only 60% of utilities surveyed by Eptica had deployed them.
2. Speed up response times
Failing to respond quickly enough to emails, tweets or Facebook messages annoys customers and can be the starting point for escalating a complaint. Utilities therefore need to look at how they can speed up answering these digital interactions – one took 91 hours to respond to a tweet in the Eptica study for example. Automatically analyzing incoming messages, forwarding them to the best available agent and suggesting a response based on the nature of the query can help here, both in terms of speed and also consistency.
3. Integrate departments
Customers hate being passed from agent to agent to get an answer to their question. Unfortunately many utilities have added new channels as they grew, leading to a silo-based approach with multiple departments, computer systems and even processes. Integrating these and mapping the approach to the customer journey is essential to delivering a smooth experience that improves loyalty and minimizes complaints.
4. Embrace social customer service
Customers increasingly turn to social media when they have issues or complaints; and these can spread virally if not answered quickly. Yet while 90% of utilities surveyed by Eptica were on Twitter, just 40% provided an accurate answer to a routine question. This seems to show that not enough resources are being dedicated to these channels, and that they need to be integrated with other digital channels such as email in order to provide a consistent, fast response.
5. Look at chat to reduce the load on the contact center
Many interactions are too complex for a consumer to handle themselves through self-service or to explain through email or, in 140 characters on Twitter. This is one reason for continued high call volumes to utility contact centers. However, the adoption of web chat provides an alternative (and more efficient) way to carry out a real-time, effective conversation. Consumers are increasingly happy to use chat, so it is time for utilities to offer it. In the Eptica study just one company provided chat, and the session then crashed part way through!
6. Empower agents with knowledge
Whether customers call, email or get in contact through social media, they expect a fast, knowledgeable answer from the agent they communicate with. Central to this is arming every agent with the information they need to do their job. That means providing access to acentralized knowledge base that is always up to date, and is easy to use when responding to a customer. By empowering them with knowledge, agents can then focus on helping the customer and be confident they have the right answers to hand. This improves the overall experience and can turn potential complaints into customer advocates.
Delivering excellent customer service in the utility sector can be difficult. Often consumers only get in contact when something has gone wrong, and it is difficult to differentiate when selling a product (gas or electricity) that cannot be seen. However, as new entrants join the market, and regulators pay close attention to performance, customer service needs to be a vital part of how every successful utility operates.
Categories:
Agent Knowledge Base, Chat, Contact Center, Customer Engagement, Customer Experience, Customer Service, Email Management, Knowledge Management, Multichannel Customer Service, Self-service, Social Media, Utilities
You might also be interested in these posts: