The importance of AI to balancing customer service resources
Published on:
March 06, 2019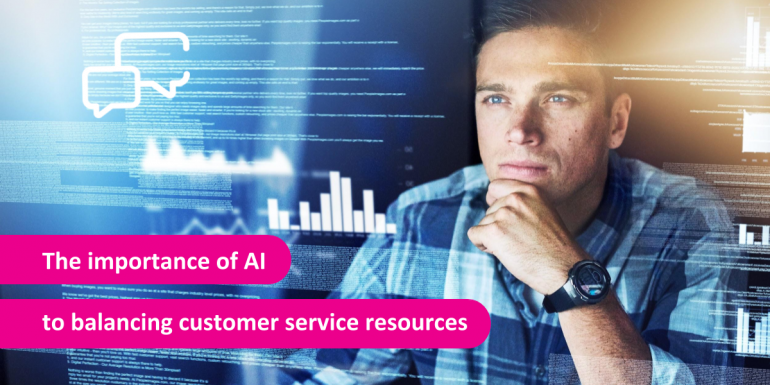 Across the globe and in every sector, customer expectations are rising. This translates into greater volumes of incoming queries for brands, as consumers demand more meaningful conversations if they are to remain loyal. Eptica research demonstrates the scale of the rise – the average UK consumer now contacts organizations nine times per month, which means that brands need to respond to 463.5 million contacts every month. 88% of those surveyed said they now contact companies more or the same number of times as five years ago – with 16% getting in touch more than twice as often.
Being able to respond successfully is key to customer retention. 91% of consumers say not answering their questions satisfactorily annoys them and makes them less loyal, while 94% said that getting a personalized, high-quality response makes them more likely to buy from that brand again. However, dealing with these growing volumes, across multiple channels, is not straightforward, particularly as resources have not always kept pace with demand.
Brands need to be more efficient and do more with less, while still meeting customer needs. This means they have to break down barriers to allow teams to work across different channels, empower agents with knowledge so that they can respond more quickly and use artificial intelligence to drive greater automation and understanding of what consumers are looking for.
Achieving a balancing act
Companies need to balance the incoming workflow across their teams, which are often spread across different brands, locations, departments or even time zones, so that questions are answered quickly and comprehensively. The aim is it to ensure that the load is spread equally, without teams either sitting idle or being overworked. However, traditional routing systems don't fully achieve this. They simply route incoming interactions (such as emails or social media messages) to particular teams, potentially based on certain parameters, such as knowledge or language skills. This doesn't take into account factors such as peaks in activity or sickness – essentially they are not flexible, agile or intelligent enough to meet the changing needs of customers.
Artificial intelligence provides a way to transform the routing process. By analyzing incoming interactions and using text analytics and Natural Language Processing to understand queries, brands can put in place intelligent workflow to manage and assign incoming interactions, delivering benefits in four key areas:
1. Quality and efficiency
Requests are directed to those agents best equipped and available to respond appropriately to an incoming query. By taking into account which agents have capacity and skills, measured on an ongoing basis, it leads to higher quality answers and greater agent efficiency as they receive a relevant allocation of queries.
2. Productivity
By enabling different teams, departments and locations to share the workload between them, any peaks in demand are smoothed, as extra capacity can be quickly assigned from across the organization. As well as agents in contact centers, staff in branch with relevant skills can also be used along with outsourced resources on a flexible, collaborative basis.
3. Workload reduction
Using artificial intelligence to analyze incoming queries doesn't just ensure that they are routed to the best agent to provide a high-quality answer – it also allows greater automation to reduce agent workloads. For example, routine queries can automatically be sent a relevant answer from the corporate knowledge base, deflecting the interaction without needing to involve an agent. This not only increases efficiency but also shortens response times and improves the customer experience as consumers receive the information they need more quickly.
4. Elasticity
Brands operate in a 24x7 world that is constantly changing. External and internal events can radically change demand on a minute-by-minute or hour-by-hour basis. For example, a change in the weather can drive queries around holidays or a company announcement can lead to unexpected greater interest in a particular product or service. Many of these peaks are outside the control of the customer service team, meaning they have to be able to respond quickly. Using artificial intelligence allows dynamic routing to ensure that demand is equally spread across a brand's capacity, as well as taking into account factors such as staff availability and sickness to provide agile, real-time routing of requests.
Using artificial intelligence within routing enables brands to better balance workloads and ensure that consumers receive the fast, complete responses that they are looking for. It demonstrates the key importance of AI within customer service and how it can deliver a better experience, building trust and ensuring consumers remain loyal to brands for the long term.
Categories:
AI, Best Practice, Product
You might also be interested in these posts: