The importance of integrating Twitter into customer service
Published on:
March 09, 2016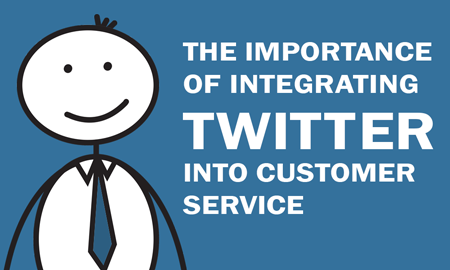 The conversational, open nature of Twitter easily lends itself to customer service – in fact, the social network itself claims that tweets to major brands have increased by 2.5 times over the past two years, and that 80% of some company's inbound social media customer service requests come through Twitter.
However, resourcing customer service over Twitter can be difficult for brands:

To help with the last two points, Twitter has just announced new features aimed squarely at customer service professionals. Firstly, businesses can now include deep links in tweets that automatically displays a call to action button, allowing the consumer to send a direct message, without needing to follow the business in question. This will speed up the process of responding to the consumer's query.
Secondly, at the end of interactions companies can now collect feedback on how the transaction went through consumer surveys, based on industry standard Customer Satisfaction (CSAT) andNet Promoter Score (NPS) metrics. This means that internally brands can see how they are performing on Twitter, as well as allowing them to compare with other channels and gain an overall view of customer satisfaction across the business.
Both of these new features show that Twitter is coming of age as a customer service channel. This is backed up by Eptica's own research – in the 2016 Multichannel Customer Experience Study, Twitter was the fastest, most accurate, and most offered, channel for digital customer service, beating Facebook, email and chat. However, with just 48% of tweets successfully responded to, this still means that over half of queries are going unanswered, showing that more work needs to be done.
As well as adopting Twitter's new customer service features, businesses therefore also need to focus on four key areas:
1. Integrate Twitter fully into customer service
Measuring satisfaction levels at the end of an interaction will deliver valuable metrics to customer service departments. However, it is vital that Twitter is not run as a separate silo, but is integrated with overall customer service infrastructure. That means accessing the samecentralized knowledge base as other channels, to ensure consistency and efficiency, and using workflow that brings together all incoming digital interactions into a single queue, allowing resources to be shared or routed to match demand.
2. Deliver a multichannel service
Consumers want to be able to use multiple channels to communicate with a company – often switching between them during the same interaction. Therefore, businesses need to join up their customer service, so that agents responding on Twitter can see a full history of previous interactions on other channels in order to deliver a more informed, personalized answer.
3. Resource it to meet customer needs
Given that consumers want to receive a fast response, they are going to be disappointed if you fail to answer because your customer service team only works office hours. This is particularly true of businesses that operate 24×7, such as online retailers, airlines or telecoms operators. Companies therefore need to analyze when they are likely to receive tweets and put in place the resources to deliver fast answers when customers want them. At the very least they need to publicize opening hours if they cannot provide full 24×7 support.
4. Be proactive on Twitter
The vast majority of tweets referencing brands won't be sent directly to the official Twitter handle, but instead just included in conversations – and may simply include the company name, rather than the handle itself. Therefore companies need to be sure that they are monitoring Twitter for these mentions so that they can respond quickly and proactively to consumers. Done well, this will increase engagement and show that your brand cares.
Given the rise in Twitter customer service volumes, expect more innovation from Twitter in this area. However, what is vital is that companies don't treat Twitter as a silo, but integrate it within their customer service operations, to deliver a truly consistent, multichannel experience that engages with consumers.
Categories:
Best Practice, Product
You might also be interested in these posts: