Looking across the Atlantic to improve customer experience
Published on:
April 24, 2015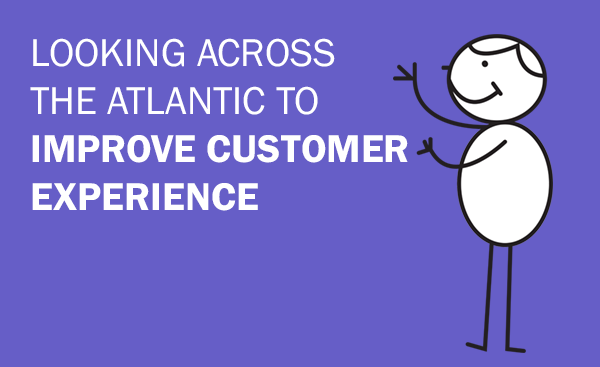 Benchmarking against competitors and leaders in other sectors is all part of improving customer experience. However we live in an increasingly global marketplace, meaning that organizations need to learn from leaders across the world if they are to thrive. Obviously ideas have to match local cultures and expectations, but by scouring the globe for new ways of interacting with customers, companies have the opportunity to differentiate themselves and gain a first mover advantage.
For UK organizations, one of the logical places to look for inspiration is across the Atlantic to the United States. Companies in North America have traditionally been leaders when it comes to customer service, both offline and online. This consequently drives higher expectations from consumers and increases competition – creating a virtuous circle of constant improvement. Obviously not every company in the US is providing good or even adequate service, as high profile cases with Comcast and United Airlines have demonstrated, but in general, consultancy Nunwood believes that the US is 2-3 years ahead of the UK.
In its recent research on US customer experience, Nunwood found that the average American consumer interacts with ten times more outstanding brands every year than their British counterpart. US companies outperform their UK equivalents by 5% and outstanding customer service is visible across every sector, not just traditional leaders such as retail. No wonder Nunwood has entitled its US report "Having a Nicer Day".
So what makes the US better than the UK – and what can companies learn? The report highlights four themes:
1. Service culture
Prior to the recession US service levels had been dropping. However, increased competition after the banking crash and the rise of customer experience management as a discipline have changed this, causing brands to focus on service above all. Essentially, rather than simply cutting budgets companies have given attention to where investment can deliver real benefits to customers, and then monitored the results.
2. Leadership from the top
Customer experience is a C-level priority, with CEOs driving the agenda for change. By adopting a top down approach, everyone in the business understands the importance of customer experience and is consequently tasked on improving it as part of their role. CX is recognized to be a business driver – as can be seen by Forrester Research's updated Customer Experience Index, which directly links customer perceptions to business value.
3. Continuous improvement
Customer expectations are continually rising, and what is considered outstanding today is seen as average (or worse) very quickly. Rather than complain about this challenge, US companies embrace it, organizing themselves to continuously find new ways to delight customers. Whether through techniques such as innovation labs, listening to customers and acting on their feedback, or creating specific teams to drive improvement, leading US brands know they cannot rest on their laurels.
4. No barriers between physical and digital
Customers now interact in a hybrid world, mixing digital and physical channels interchangeably to achieve their goals. Adopting a channel by channel approach to customer experience makes it difficult to deliver a seamless service, as departmental silos and technology complexity to get in the way. US brands are enabling customer to interact however, whenever and wherever they wish, valuing their time and putting in place a framework that joins up channels to make interaction simple.
Companies in the UK need to look across the Atlantic and learn from their US counterparts for two main reasons. Not only will it help them improve when competing against current rivals, but will give them a head start if and when US brands (and their customer experience excellence), decide to enter the British market. Importing some US CX thinking will therefore make it easier for everyone to have a nicer day.
Categories:
Contact Center, Customer Engagement, Customer Experience, Customer Service, Forrester, Multichannel Customer Service
You might also be interested in these posts: