Making the travel customer service journey seamless
Published on:
March 06, 2015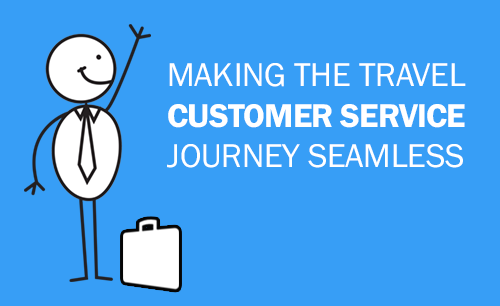 As an industry, the travel sector has been radically changed by the internet. More and more journeys, whether by air or rail, are booked online, and the rise of social media and review sites has provided consumers with the opportunity to give their views on the service they receive. Passengers and guests are consequently becoming more and more demanding when it comes to the customer experience.
Recent research backs up this trend, pointing to increasing dissatisfaction from those using the UK's railways. The Which? report surveyed 7,000 passengers and found that just 43% of those travelling with some train companies were satisfied. Even those that ranked highly for satisfaction still had a way to go, with scores of 76%. Overall 29% of passengers said they'd experienced a delay the last time they travelled. For many rail is the simplest way of travelling, particularly when commuting to work, but the combination of increased fares, delays and poor service could potentially cause them to switch to other modes of transport.
Looking beyond the rail industry, how can all travel companies ensure they are delivering the right customer experience for their passengers? Essentially it comes down to focusing on five key areas:
1. Communication
Whether it is waiting at an airport, stuck at a station or becalmed in a ferry port, passengers want to know what is going on. For many the worst part of delays is having no information at all about what is happening and when things will be back to normal. Often this is not the fault of the train or airline staff as they don't have access to up to date information either, so cannot help. What companies need to ensure is that they empower frontline staff with the latest news on delays so that they can help passengers plan accordingly.
2. Show empathy
Delays inconvenience people and disrupt their day or even wider holiday plans. Companies need to understand this and go beyond bland apologies to help customers to reach their final destination. In the same way that an ecommerce retailer is responsible for a package being delivered on time, travel operators can't just blame outside factors for delays. They need to ensure staff are available to give advice or help plan alternative routes, providing personal service to passengers.
3. Apologize and compensate
Legally, airlines and rail companies are obliged to offer compensation if their flights or trains are delayed significantly. For example in the EU, passengers whose flight is cancelled or delayed by over 3 hours are eligible for compensation of between €250 and €600. UK rail operators also run refund schemes which compensate passengers if their trains are delayed significantly. But the Which? report found that 75% of those that were delayed by over an hour were not told that they qualified for a full refund, leading to many of them not claiming. Travel companies should be upfront about such schemes and make it as easy as possible (such as through online compensation forms) for passengers to put in valid claims. Apologizing and compensating passengers won't solve any problems that delays have led to, , but at least they provide some positive outcomes for passengers.
4. Learn from your mistakes
Many factors affect why a plane or train is delayed. From the weather to overrunning engineering works, often they are outside the operating company's direct control. However many other reasons for lateness can be mitigated through increased investment or by changing processes or procedures. Customers are annoyed if something goes wrong once, but if the problem is repeated may well vote with their wallets and find alternative modes of getting from A to B. Therefore learn from your mistakes and aim to ensure they don't happen again.
5. Engage
In today's era of social media, customers have the ability to share their poor experiences instantly with the world. Transport companies need to understand this and ensure they have a customer service presence on social media so that they can respond quickly, flag delays proactively and help explain to passengers when things go wrong. And this customer service should match operating times – there is nothing more annoying for a passenger to tweet about a delayed late night flight, only to see that the airline's customer service team only works 9-5.
The Which? report shows the rising importance of customer service across the entire travel industry. Whatever form of transport they provide, travel companies need to ensure that they focus on service and the passenger experience if they are to retain customers moving forward.
Categories:
Customer Service, Customer Engagement, Travel, Customer Experience
You might also be interested in these posts: