Mapping the customer journey pain points
Published on:
August 12, 2014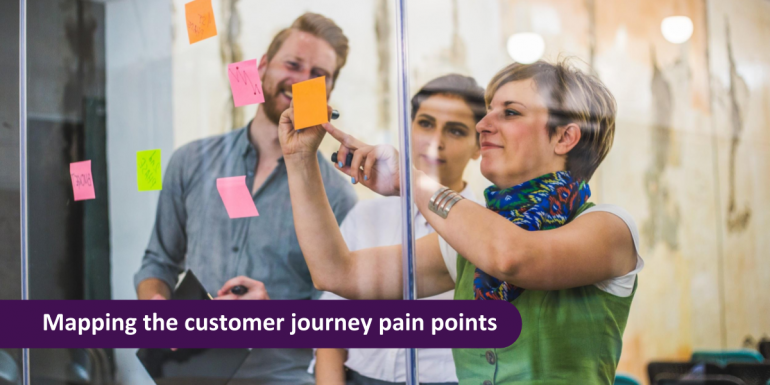 All organisations understand that customers go on a journey when they interact with them. However, this is rarely a straightforward trip, but more of an expedition with twists and turns, ups and downs, spanning many channels.
Along this journey, Jeff Toister, the author of Service Failure: The Real Reasons Employees Struggle with Customer Service and What You Can Do About It – identifies three critical 'Moments of Truth' for customers which have a pivotal effect on the customer relationship. It's an interesting take which digs into the psychology of often unpredictable customer behaviour:
1. The 'Welcome'
This is the first impression which sets the tone for the rest of the experience. Customers often suffer from 'confirmation bias' which causes them to selectively (and unconsciously) filter information based on whether or not it fits with their expectations. This bias can strike even before the customer has had any direct contact with the organisation – they might, for instance, be annoyed at having to negotiate a complex telephone system or get caught in traffic en-route to the shop. Whatever the reason the organisation needs to anticipate this and overcompensate for this by going out of their way to offer an 'outstanding' first impression – 'good' simply isn't enough.
2. The Peak
The part of the experience that represents the greatest difference from the norm – either positively or negatively. Toister argues that we don't notice good service. We only notice service that's different from what we expect, which is what the peak represents. Therefore the argument suggests that by offering truly exceptional customer service there is a big opportunity to make a positive impression which can ripple way beyond an individual customer's experience and even go viral via social media. Of course, the reverse is true – a poor, substandard impression spreads even quicker.
3. The Farewell
This is the last impression that the customer is left with and therefore the one that will last the longest. This is also the most critical point of the journey since the customer is now in a position to make a choice in whether they will interact with the company again, as well as publicise their experience through word of mouth, online reviews or social media. At the very least the farewell helps them decide if they'll buy from your company again.
Even if we don't agree with all of Toister's points, most of us can probably see elements that make sense. So how can we apply it in our day to day roles?
For the 'welcome' the key point is to replicate customer behaviour and really seek to understand the customer experience – test, test and test again. If, as with the example above, the telephone IVR is overly complicated then try to simplify it or find another way of doing things. Benchmark against competitors and if there are elements of best practice elsewhere then look to see how it can work for your organisation – there is no shame in adapting winning elements.
Data is key to uncovering pain points. For example, if people keep calling or emailing with questions at a certain point in the process, analyse this to see whether there are any common threads. Are they confused by a particular part of your site or the language you are using? If that's the case then you need to make changes to your website or the information you display. If you can't amend something (for example it is a legal requirement to display particular wording), make sure you have tailored help available to get customers over the hump in the journey. Proactive web chat, for example, could kick in if people spend a certain amount of time stuck on a page or tailored self-service help could appear on the page itself.
It's never been more important to be consistent. We live in a multichannel world and it's vital we make sure the experience matches across every channel. Using a centralised knowledge base that's kept up to date online and provides the same answers directly to customers via online channels and to agents answering email, phone enquiries and questions over social media is one way of maintaining that. It means whichever channel a customer uses the answer is the same every time.
As Toister alludes to, customers have become ever more demanding when dealing with organisations. Mapping and testing your customer experience is key to ensuring customers enjoy and complete their journey as well as build a lasting relationship with your organisation.
Categories:
Contact Center, Customer Engagement, Customer Experience, Customer Service, Multichannel Customer Service
You might also be interested in these posts: