Meeting rising email expectations in customer service
Published on:
April 17, 2015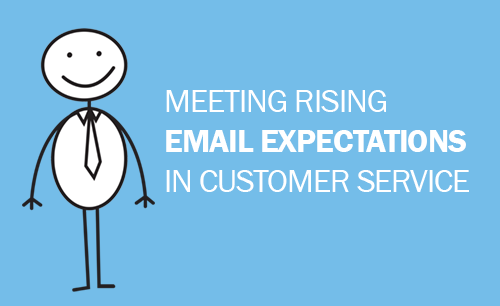 Companies face two key challenges when it comes to delivering customer service today. First, consumer expectations are continually rising, with every organization, no matter what sector they are in, judged against the standards of the best. This means simply outshining your peers is not enough – you need to compete with every company that a consumer might interact with in order to win their loyalty. This applies equally whether you a retailer, a utility or a government department – you have to achieve the highest possible standards, irrespective of industry.
Secondly, the move to multichannel not only adds to complexity and pressure on resources, but has an impact on the service consumers expect on every channel. They demand the same speed and quality of response, whether they are asking a question on email, Twitter, Facebook or through web chat. If you can respond to a tweet in 20 minutes, consumers expect an email answer in the same timeframe.
These two trends can be seen in recent research carried out by Toister Performance Solutions. This study interviewed 1,000 US adults and found that over 30% of customers expect a response to their email within one hour.
Given that many companies promise to respond within 48 hours (and then often fail to hit their own targets), this demonstrates how rising customer expectations are outstripping what organizations feel they can deliver. The 2015 Eptica Multichannel Customer Experience Study found that the average email response time from the UK's top 100 brands was over 29 hours, showing just how far there is to go.
So how can companies meet the email challenge – particularly as volumes increase and questions become more complex? Here are five areas to focus on:
1 Deflect what you can
Some customers email simply because they cannot find an answer to a basic question online. What they want is a response as quickly as possible, while expending minimal time and effort. Therefore provide them with other options, such as web self-service and chat, so that they can either locate information themselves or have a discussion with an agent without having to email. Make sure that both of these options have the ability to escalate to email if they can't get an answer online, making it simple and seamless to get in touch.
2 Get questions to the right place
To speed up email answering, make sure you have workflow in place that can automatically send an incoming query to the agent best suited to deal with it. This could be based on language skills or experience at dealing with specific questions. By assigning the email as it enters the building it should mean it gets to the right place to be answered quicker, speeding up the response time.
3 Arm your agents with the right knowledge
Faster answers rely on providing agents with fast access to consistent, up to date information. Provide a centralized knowledgebase that they can use as an information source, and ensure that it is easy for agents to suggest changes if the answers in it are at all unclear.
4 Automate what you can
Rather than forcing agents to type out answers manually, provide them with templates that they can personalize in order to shave time off the process and reduce the risk of mistakes. Set your workflow so that as well as sending the query to the best available agent, it automatically offers template answers that they can use as the basis of their response.
5 Use the power of linguistics
As well as requiring faster answers, customers want their query to be understood and their feelings taken into account. If a consumer is angry about something, failing to respond for a day, and then not showing any empathy when you do answer, is going to drive them into the arms of the competition. Use linguistics, the scientific study of language, to understand the tone and context of the incoming email. This allows you to prioritize depending on the issue and customer feelings. For example, if someone is flying with you the next day and needs something clarifying urgently, it makes sense to put them to the top of the queue and respond quickly.
For companies that are struggling to meet a one hour target for email responses, the time to act is now. After all, customer expectations are only going to rise – the same Toister survey found that 14.5% of people expect an answer to their email within 15 minutes, up from 4% the year before. Put in place the infrastructure and resources, benchmark yourself against the best and keep bringing down handling time if you want to succeed in an ever-more demanding world.
Categories:
Contact Center, Email Management, Customer Service, Self-service, Agent Knowledge Base, Linguistics
You might also be interested in these posts: