The need to bridge the customer engagement gap
Published on:
March 27, 2015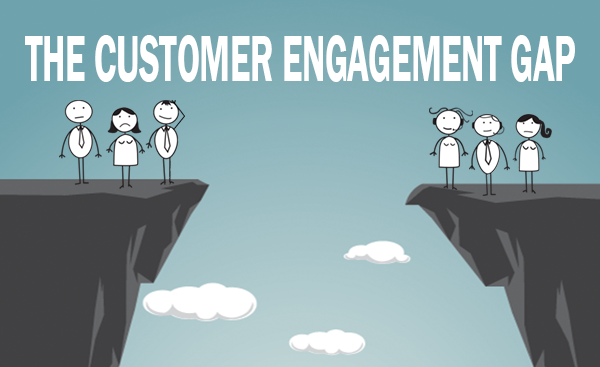 Whatever industry an organisation operates in, building mutual understanding between customer and company is at the heart of creating engaged, long-term relationships.

However there is a growing gap between the two sides, according to new Eptica research.
The Eptica Study: The Power of Linguistics in Customer Service, surveyed both consumers and agents in order to identify the frustrations that are undermining the UK customer experience. It found that consumers are becoming increasingly frustrated at not being understood, and are voting with their feet by switching supplier, while contact centre agents faced with a tidal wave of emails and tweets empathise but can do nothing to help.
The Eptica Study highlighted six key points:
1. Lack of understanding holds back customer service
Consumers' biggest frustrations revolved around a lack of understanding of their query, and a failure to acknowledge their feelings, such as upset or anger. 78% said that receiving a response that didn't answer their query at all, or partially answered it, was one of their two largest frustrations. One fifth (20%), said that a failure to acknowledge their feelings was their biggest gripe.
Agents are equally frustrated at not being able understand consumers. 61% said they found it difficult to grasp what a customer was asking, particularly when they used jargon or slang. When asked to name their top two issues, nearly a third (32%) said they found it hard to recognise anger or upset in digital customer communications (such as emails or tweets).
2. Companies not engaging with customers
Engagement is being undermined by a lack of empathy, understanding and personalisation. Nearly a third of customers (31%) said that they were frustrated by responses that don't acknowledge their feelings – and a quarter (25%) said that a lack of personalisation was their first or second greatest bugbear.
Turning to agents, 31% of respondents agreed that a failure to acknowledge feelings was one of the top two reasons for consumers to become frustrated. However, they felt powerless to help. 32% said they were equally frustrated by not being able to understand whether a customer was happy, upset or angry. Agents empathise personally with consumers, but are unable to identify strong feelings from the text interactions that they are presented with.
3. Customers unafraid to switch
Given the ease of changing supplier it is no surprise that customers say they will switch if they are frustrated. What is more worrying for brands is the scale of the figures. 82% will switch "always", "often", or if their problem is not sorted out. On the positive side 41% of consumers will give companies the chance to sort out an issue before switching, but this still means over 4 in 10 consumers won't give a company the benefit of the doubt. Just 18% said they rarely switched supplier due to customer service frustrations.
Again, agents know this. When asked whether poor service made consumers switch, very similar numbers (85%) agreed that they would leave "always", "often", or if their problem was not solved.
4. Agents want help from technology
As their answers show, agents understand the frustrations that consumers face, but feel powerless to help. When asked what would make their jobs easier, over half (51%) ranked technology that analyses incoming questions and automatically suggested answers as their first or second priority. The ability to prioritise based on urgency and tone was requested by half of agents. A third (34%) wanted better, centralised knowledgebases where they could find comprehensive, consistent and useful answers.
Underlying this was a need to provide agents with a full, multichannel picture of the customer. 55% listed having a single view of all customer interactions, across every channel as their first or second priority.
5. Email is alive and well
When they want to contact a company through a digital channel, email is the overwhelming consumer favourite. 87% said it was their primary written means of communicating with a brand, well ahead of Facebook (6%), chat (4%) and Twitter (4%). This is not surprising – email gives a full audit trail of any conversation, messages can be sent at a time convenient to the consumer, and the explosion in smartphone use means that customers don't need to be at their desk to send an email.
6. Agents just want to be thanked
The research also asked agents for the words and phrases that both made them happiest and most upset. Chief amongst the negatives were being sworn at, abuse, emails in UPPER CASE and just the word 'disappointed.' On the positive side, it seems that all agents really ask for is to be thanked, with basic phrases such as 'thank you' and 'you were helpful' leading the way.
In conclusion, the Eptica Study: The Power of Linguistics in Customer Service uncovered a fundamental mismatch between the aim of brands to increase engagement and the inability of contact centre staff to understand the needs and feelings of their customers.
The risks of this understanding gap are enormous – frustrated customers have no qualms about switching to competitors, often without giving companies the chance to repair their mistakes. Costs rise as it takes an increasing amount of time to answer queries, stretching already thin resources. Agents are equally frustrated, empathising with customers but simply unable to comprehend what consumers want when they contact brands, due to the difficulties of understanding the meaning and tone of digital interactions.
In a future blog I'll outline some of the ways that technology can help bridge this customer experience gap. In the meantime you can download the full study report at http://www.eptica.com/study-power-linguistics-customer-service
Categories:
Customer Experience, Customer Service, Contact Center, Customer Engagement, Linguistics, Top 2015
You might also be interested in these posts: