The opportunity for European customer experience
Published on:
October 16, 2015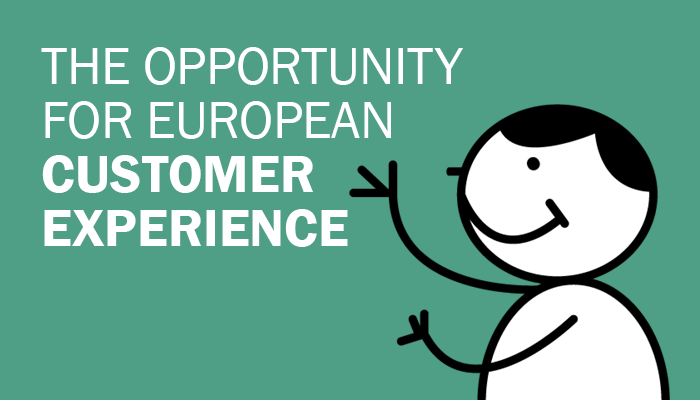 From Berlin to Bermuda, and San Francisco to Singapore, consumers increasingly demand a superior customer experience from the organizations that they choose to buy from. Across every industry there has therefore been a major focus on delivering this customer experience as well ascontinually improving it to match rising expectations.
Providing an excellent customer experience is a journey, and new research from Forrester has found that many European companies are just getting started on customer experience improvement. While organizations are accelerating their efforts, in its 2015 Customer Experience Index for Europe, the analyst found that no company in France, Germany or the UK yet delivered a superior experience. By contrast 1% of US organizations met this criteria.
The study polled nearly 14,000 European consumers, asking them to measure and rank 203 brands. These spanned six sectors in Germany, seven in France and eight in the United Kingdom. Financial services organizations topped the charts, echoing the results of the 2015 Eptica UK Multichannel Customer Experience Study, where banks scored highest for web service. Pay-TV companies and ISPs were the lowest ranked sector.
The majority of brands in the study were local to France, Germany or the UK, but Amazon was the highest online-only retailer in each of the three countries. This points to the threat of international competition to organizations operating in Europe – as consumers become more adventurous and improved logistics make it easier to deliver globally, there is a real chance that more US leaders will move across the Atlantic.
So how can European companies continue their customer experience journey and transform the experience they offer? Here are four areas to focus on:
1. Learn from the leaders
It isn't enough to offer a better experience than your nearest rivals. Customers judge you against the service they receive from leaders in other sectors too. They now expect the same seamless experience from a utility or bank as from a retailer – the bar has been raised for everyone. Therefore, organizations need to learn from leaders in every industry, and also look internationally to see what lessons they can pick up from innovators across the globe.
2. Engage with customers
Forrester points to the importance of emotion to building long term customer relationships. Yet many companies, on both sides of the Atlantic, struggle to understand what their customers are saying to them through digital channels such as email and social media. This inability to pick up on emotions such as anger, annoyance or happiness frustrates customers and makes them more likely to move to rivals. Technology such as linguistics can sift through the thousands of digital messages that companies receive, and help understand, prioritize and suggest responses thatdeepen engagement and foster longer term loyalty.
3. Continue to innovate
Wherever you operate, customer expectations are always rising, meaning that the customer experience needs to continue to evolve. Resting on your laurels is simply not an option – today's leader can quickly become tomorrow's also-ran. Ensure you have a process in place that encourages continual innovation, rather than leaving it to chance.
4. Be customer-centric
Put your customers first at all times. This sounds obvious, but many companies make it difficult for customers to complete transactions or force them to repeat themselves if they change channels. Think like a customer and test your systems and processes to ensure that they are seamless and meeting customer needs. For example, many organizations say they'll respond to an email within 48 hours – despite Forrester's research showing that 41% of consumers expect an answer within 6 hours.
Forrester's latest research further demonstrates the importance of customer experience to European consumers. From my own experience speaking to companies across the continent, I'm sure that 2016's results will show accelerated improvement as the investment of European organizations translate into greater performance across customer experience – for all.
Categories:
Banking, Contact Center, Customer Engagement, Customer Experience, Customer Service, E-commerce, Forrester, Linguistics, Multichannel Customer Service
You might also be interested in these posts: