The push for mobile customer service
Published on:
November 30, 2016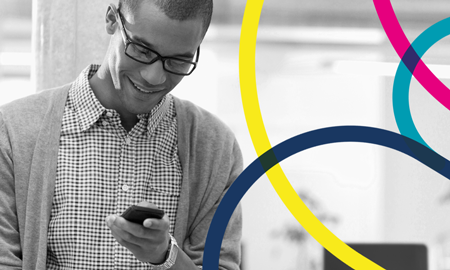 The rise of the smartphone has transformed how people interact with each other, brands and the world around them. Rather than being tied to a PC or landline phone, smartphones empower users by putting a computer in their pocket, ready to use anywhere and anytime. No wonder that 72% of consumers in the U.S. and 68% of those in the United Kingdom now have a smartphone, according to the Pew Research Center. And they are using it for buying as well as researching products and services – last Christmas Amazon reported that 70% of its customers shopped through a mobile device, while half of Walmart's orders between Thanksgiving and December 1 were via mobile.
The rise of mobile is driving customer service change in five key ways:
1. Omnipresence
We have our phone with us all the time – and get worried and stressed if we leave the house without it. It has even become a recognized condition – Nomophobia (a shortening of "no mobile phobia"), with more than three quarters of consumers admitting to checking their phone over 35 times a day.
As consumers have their smartphone with them all the time, they have the ability to access information 24x7, driving demands for fast, effective service, day and night. This omnipresence is also leading to increasing showrooming, where consumers look at goods in-store before checking prices and ordering via their cellphone, often from a rival. Companies therefore have to cater for the ubiquity of the smartphone, providing sufficient resources to answer queries whenever they are asked if necessary.
2. Multichannel
A smartphone provides a way of accessing a whole range of channels. As well as making phone calls, it makes it simple to browse the web, quickly send email, access social media, have a mobile web chat, or simply send an SMS message. This means that brands need to increase resources across the board as the volume of conversations increases dramatically in both number and range.
It used to be that there was often a time lag between a user having a bad experience and contacting a company, as they needed to return to their PC or home phone. This has now disappeared – it is simple to send an angry email or tweet within seconds of a problem, and often before the consumer has calmed down.
3. Location, location, location
The inbuilt GPS within smartphones is essential for users looking for the nearest ATM or type of shop. It also means that brands can see exactly where people are in relation to their store, and can use this information to provide a personalized service that is likely to increase sales or overall loyalty. For example, stores or restaurants could provide tailored offers to local shoppers or use location data to spot trends, such as poor service in a particular branch. It is therefore imperative that company websites and mobile apps use location as part of the experience they deliver – there's no point providing opening hours for a store that is miles away from the user, for example.
4. Connected experience
Consumers may have their smartphones always to hand, but that doesn't mean that the customer journey is simple or straightforward. They'll still switch channels, and devices, depending on their particular need – and expect brands to be able to join up the pieces and know exactly where they have been, and what they have previously asked. This means that companies have to be able to connect different channels and share information in order to deliver the best possible service to consumers.
5. Impact on overall behavior
Consumers are becoming more and more demanding, both in terms of the speed at which they want answers and the level of personalized service they require. Much of this is being driven by the always-on mobile world, but it equally impacts other channels. Whether it is online, on email or on their landline, consumers expect the same speed and consistency, however they make contact.
Whatever industry you operate in, mobile is driving higher expectations from consumers and greater volumes of contacts across multiple channels – brands therefore need to look at a mobile-first strategy if they want their customer service to make the connection to today's consumers.
You might also be interested in these posts: