The six ways web self-service improves your customer experience
Published on:
September 18, 2015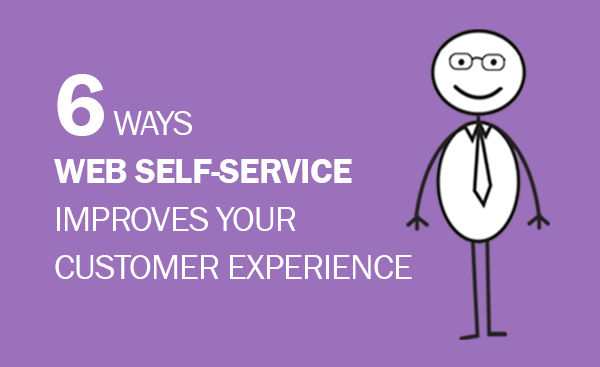 Customer service teams are currently faced with multiple challenges. Consumers are asking an increasing number of questions and are demanding faster service, across more and more channels. At the same time budgets for coping with this growing volume of interactions are often flat or even shrinking. So how can companies deliver faster service to more queries, while improving efficiency?
Luckily there is an answer. Web self-service systems provide a way to balance these competing demands while enhancing the customer experience. Essentially a web self-service system puts the customer in control, allowing them to ask questions, in their own words, and receive fast, consistent and accurate answers. Whether deployed on a company website, Facebook page, or even to agents within the contact center, web self-service delivers benefits in six key ways:
1. Improve the customer experience
Today's consumers want fast, accurate answers to their questions, on their channel of choice. If they are on your website they don't want to be forced to pick up the phone or send an email if they have a simple query. Providing clearly visible and easily accessible web self-service options on your website therefore enables them to get instant answers so that they can continue the customer journey without interruption. Web self-service also operates around the clock, meaning that customers don't have to wait until your contact center is open to get a reply.
2. Increase efficiency
Effective web self-service systems reduce the number of calls and emails a company contact center receives, as basic questions are dealt with without needing an agent to become involved. Having a question answered through self-service has a negligible cost, compared to an average of £3.40 for email and £3.87 for phone, according to analysts Contact Babel. In many cases web self-service can deflect up to 90% of queries, showing the potential for dramatically reducing costs without impacting customer service.
3. Ensure consistency
With multiple channels and large teams of agents, ensuring that information is always accurate and up to date can be hard. Many contact centers still rely on printed manuals to provide agents with answers to commonly-asked questions, which are expensive and quickly become out of date. Providing an incorrect or inconsistent answer to a customer, whether by email or on the phone, can have negative consequences. It annoys customers and pushes up costs as they need to re-contact to confirm that the information is correct. In a regulated industry (such as financial services), it could even lead to legal action. Web self-service systems avoid this, by providing a consistent response through a company's website, without them even needing to email or call. Additionally, the same knowledge base used for web self-service can be shared with contact center agents, ensuring that they always have access to the latest information when interacting with customers.
4. Improve the agent experience
By deflecting basic questions, web self-service systems allow agents to focus on more complex queries, where they can use their skills to solve customer problems and add value to the experience. Concentrating on this type of transaction is more rewarding for agents, who get the chance to make a difference by helping customers, rather than simply responding with routine information.
5. Increase revenues
When customers have a question during the buying process they have a choice. They can persevere and try and find the information they need from a company, or, alternatively, can just give up and move to a competitor, without contacting you at all. This results in customer churn and lost revenue. By offering web self-service on your website, customers can get the answers they need quickly and easily, without needing to change channel and consequently are more likely to move forward and buy from you. This boosts sales and increases loyalty, and has a positive effect on the bottom line.
6. Deliver insight into customer needs
Web self-service systems have built-in analytics that let you see what questions that customers are asking and where they are in the buying process. By analyzing this information you can benefit in two ways. You can uncover and fix any issues in the customer journey – for example, if 90% of customers have a question when on the checkout page, it gives a good indication that the process needs to be revised. Additionally, if customers are asking for particular products or services that you don't currently offer (e.g. is this shirt available in green?), it shows that there is a potential market for you to target.
At a time when customer service departments are wrestling with increasing volumes of interactions and static budgets, web self-service delivers real benefits that can boost customer satisfaction, while balancing costs.
Categories:
Agent Knowledge Base, Contact Center, Customer Engagement, Customer Experience, Customer Service, E-commerce, Email Management, Knowledge Management, Multichannel Customer Service, Self-service
You might also be interested in these posts: