Technology with the human touch
Published on:
April 08, 2016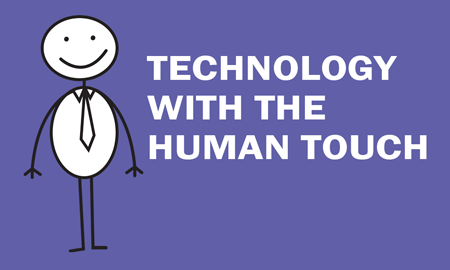 Technology has the power to transform how we communicate with each other, and has made huge advances over the last twenty years. We've seen the growth of email, the rise of social media and the emergence of web chat all provide new ways to interact with friends, families and organizations. In turn, this has revolutionized customer service, adding new channels and new expectations when individuals want to speak to brands.
However, technology alone is never enough, as the recent issues suffered by Microsoft's chatbot Tay illustrate. Launched on Twitter, Microsoft said its researchers created Tay as an experiment to learn more about computers and human conversation. However, the artificial intelligence within Tay was designed to learn from the interactions it had – something that many Twitter users quickly realized was open to abuse. Pretty quickly she had been taught to give inappropriate racist, sexist and otherwise offensive responses, leading Microsoft to remove her account from Twitter.
In many ways the problems with Tay mirror those that the first wave of customer service chatbots on websites suffered. Normally represented by a female avatar, they tried to respond to any remark made by the public with a coherent answer, but were often targets for rude or irrelevant questions. Most have now disappeared, and while artificial intelligence technology has improved massively – as shown by the responses provided by Apple's Siri for example, they still don't deliver the personal experience that consumers are asking for.
At a time when individuals want to have meaningful, two way conversations with brands, organizations need to balance the use of technology with human input. This way they can maximize efficiency, while still providing an engaging, human face to their customer experience. After all, most people are still more comfortable having conversations with other people, rather than machines. From my experience I see three areas where advanced technology, such as linguistics can help underpin better, more productive conversations:
1. Deflecting incoming queries
There are times when consumers don't want to interact deeply with an organization – they just want an answer to a simple question, and they want it now. Self-service technology can be deployed on channels such as the web in order to help consumers better serve themselves, freeing up human agents to deal with more complex queries where they can use their emotional understanding to improve the customer experience.
2. Empower agents
Whatever the channel a consumer uses, their query is likely to be routed to an agent in the contact center. To ensure that the conversation delivers the right result it is vital to empower these agents with the tools and information they need. Technology can help. For example, provide agents with access to a centralized knowledge base that is constantly updated with the latest answers, in order to give them the information they need to respond confidently to customers over the phone.
You can also use workflow that analyzes incoming queries and automatically routes them to the best available person within the organization, along with a suggested template answers. Agents can then personalize the response and provide an efficient, helpful reply to the query.
3. Understand emotion
Imagine having a conversation where you had no idea whether the person you were speaking to was happy, angry or sad, and there was no way of finding this out. Essentially, this is the case for most digital interactions, as channels such as email lack the verbal or physical context that makes face to face or phone conversations easily understood. However by using linguistic technology, companies can analyze incoming interactions and get an idea of the tone of the conversation. This means they can respond accordingly, without the risk of misinterpreting what is being said at the other end. Linguistics can also allow you to prioritize messages according to tone or language – with angry customers threatening to leave routed to specialist teams trained to empathize with their complaints for example.
It is easy to be seduced by the potential of technology, particularly artificial intelligence. However, as the case of Tay shows, it is vital not to forget the importance of humans to having meaningful conversations if you want to engage and retain customers moving forward.
Categories:
Artificial Intelligence
You might also be interested in these posts: