UK customer service hits five year low
Published on:
January 28, 2015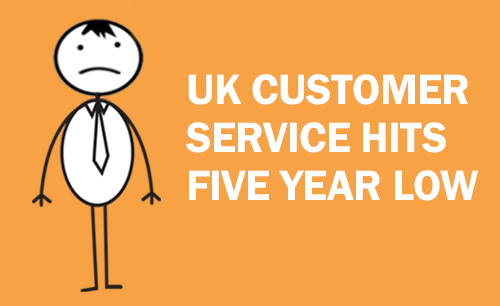 The Institute of Customer Service's latest six monthly UK Customer Satisfaction Index (UKCSI) reveals the lowest figures since 2010 – and marks the fourth consecutive fall in customer satisfaction levels.
The overall Index fell from 76.3 in July 2014 to 76.0 in January 2015 – in January 2013 it was 78.2. No fewer than 58% of the organisations (113 brands) in UKCSI have seen their customer satisfaction scores fall by more than one point over the past year. Meanwhile the average satisfaction rating in all but two of the 13 sectors in the UKCSI has dropped over the same period.
The ICS has been tracking customer service and its impact on the economy, via its Customer Satisfaction Index (UKCSI) since 2008. The January 2015 index is based on 39,000 responses from over 10,000 consumers and covering 222 organisations across 13 industry sectors. It measures satisfaction using key metrics such as professionalism, quality, efficiency, problem solving and complaint handling.
Drop at the top
Retailers John Lewis and Amazon retained their positions at the head of the UKCSI, scoring 87.2 and 86.7 respectively. But even these consistent high performers have seen their scores fall slightly since last January, underlining that there is no room for complacency. Part of the reason for the decrease is down to customers continually raising their expectations, meaning companies need to keep innovating. They can't afford to sit on their laurels. The research also found customers' expectations differed according to their age. Younger people were considerably less satisfied than older segments, underlining the importance of understanding the needs and satisfaction levels of different customer groups.
Positive improvements for some
Utilities together with banks and building societies were the only sectors where satisfaction is improving. Three water companies – Southern Water, Yorkshire Water and United Utilities – have notched up the biggest increases in UKCSI scores during this period.
Scoring highly is not linked to being a premium brand. Brands such as Aldi, Greggs, Iceland and Matalan are all in the top 20, alongside the likes of Waitrose, Ocado and John Lewis. This shows that customer satisfaction is about delivering the experience that your customers expect and demand, on their channels of choice.
The UKCSI is based on 28 separate ratings, and 26 of these have fallen in the last two years. The three areas where ratings have fallen fastest are:
Complaint Handling (for which 13.4 % of people had a problem)
Speed & Responsiveness (cited in 24% of problems)
Staff Issues such as competence, attitude and keeping promises (cited in 41% of all problems)
Taking action to reverse the trend
The ICS advises companies to focus on four key areas to help them improve customer satisfaction:
1. Leadership must stand behind the Customer Service cause
Management should set a clear vision from the top that recognises customer service, making it a core objective for the organisation.
2. Encourage Innovation and Agility
You need to foster both a proactive and a reactive culture among staff with the aim of building a clear differentiation for your company. Remain flexible to market changes and evolve quickly to stay ahead of the competition in order to exceed customers' expectations.
3. Make Staff Training and Employee Engagement a priority
The people you employ are paramount to delivering excellence in customer service. Recruit knowledgeable, engaged, helpful and friendly staff and continue to improve their skills and keep them engaged by investing in their training.
4. Measure how you're doing and ask how you can improve
Measure the customer experience from multiple sources in order to generate an accurate assessment of how your organisation is performing and look for insights that can help identify changes to help you continue improving.
The latest UKCSI is a wake-up call for all brands. Customer service is a key factor in business competitiveness and winning and retaining customers. For example, food retailers with higher than average UKCSI scores have an average annual sales growth of 8.2%, while those with lower than average scores had an average annual sales growth of -1.9%. The findings of the ICS study show that service needs to be delivered quickly, through the customer's channel of choice, by empowered staff with the latest information at their fingertips. You shouldn't stop innovating and looking to make improvements – customers are constantly getting more demanding, so keep testing, refining and learning if you want to succeed.
Categories:
Contact Center, Customer Engagement, Customer Experience, Customer Service, Multichannel Customer Service
You might also be interested in these posts: