What are the factors affecting channel choice?
Published on:
May 19, 2015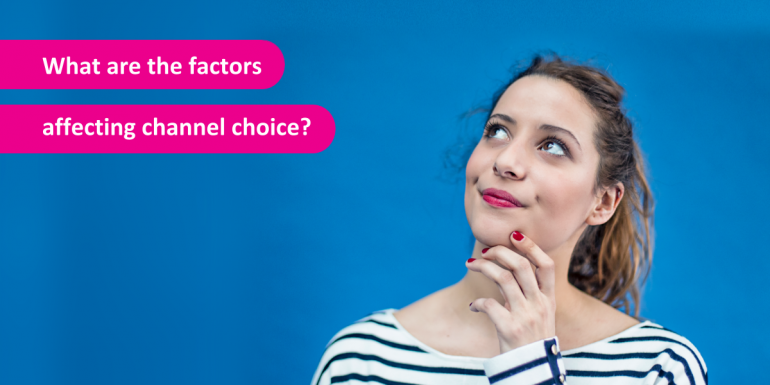 In today's multichannel world, providing service through the channels that customers want has never been more vital. Obviously you need to deliver a consistent experience across every channel, but with resources tight, how you split agent time can be a juggling act.
So it is important to understand what channels your customers are likely to use most. There are a number of factors to take into account, including:
1. Age
Many companies decide channel split by looking at customer demographics, particularly age. Lots of research indicates Generation Y is forsaking telephone communications in favor of social media and real-time messaging such as web chat and text. And there's a belief in many circles that the older Baby Boomer generation has a stereotyped preference for talking on the phone compared to newer digital channels. While those in the middle – Generation X – are happy using the phone and email but perhaps still not totally comfortable with real-time messaging. This is a definite factor in choice, but not the only one.
2. Context
In an emergency where we need a fast answer, we pick up the phone, irrespective of our demographic group. However, if you are then told you'll be on hold for 15 minutes and chat is available, you may hang up and switch to this channel.
In contrast, for less time-critical interactions sending an email provides the security of a written audit trail. Therefore companies need to look at why consumers are contacting them, particularly how urgent their query is when balancing resources between channels.
3. Personality
Another perspective is to examine how the personality types of customers might drive their preferences for customer service channels. Extroverts, with confident and outgoing personalities, will be happier getting on the phone and might even enjoy some chitchat and putting their point across to a contact centre agent.
In contrast, those with a reserved and introverted personality might prefer non-verbal/real-time channels such as email contact for customer service. This means they don't need to talk to someone and they can avoid the need to think on their feet when communicating with an agent on the phone. Email gives them plenty of time to consider and get across what they want to say. And they can avoid being put on the spot with difficult questions while on the phone or in a real-time dialogue on text or web chat.
4. Type of business
Obviously, it can be difficult to analyze your customer base by personality without asking intrusive questions. However, if you look at the type of business you are, it is possible to build a picture of the sort of customers you'll attract. A youth fashion retailer is obviously going to attract a different demographic than a provider of holidays to the over 50s. Understand your customers and use this information to assist in planning your multichannel strategy. Run focus groups and research to help form this picture.
For most businesses, companies will always need to maintain a mix of channels in order to cater for every customer. However many organizations are struggling to deliver this. The latest Eptica Multichannel Customer Experience Study found that, for example, despite the popularity of email, more and more organizations are shutting the channel to non-customers. Over a quarter (26%) of companies could not be contacted by email, compared to just 13% in 2011.
What is needed is a balanced, multichannel approach that delivers the same high levels of service, however, a customer contacts you. Analyzing the factors behind channel choice is a good start point to setting your priorities, but you still need to offer the full range if you are to meet the needs of all customers.
Categories:
Chat, Contact Center, Customer Engagement, Customer Experience, Customer Service, Email Management, Multichannel Customer Service, Social Media, Top 2015
You might also be interested in these posts: