What is a customer hub? And why do you need one?
Published on:
August 27, 2015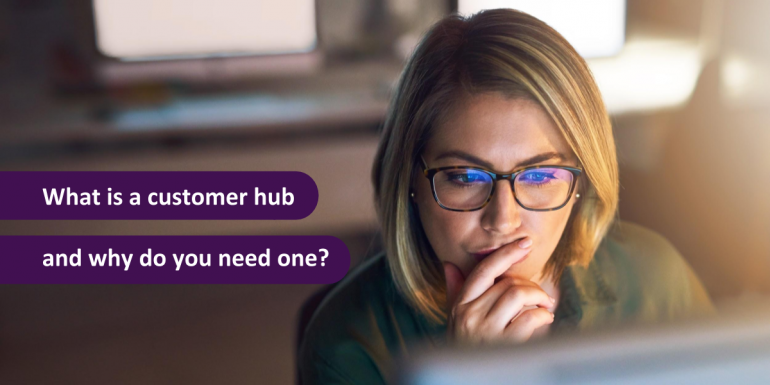 When customer service first rose to prominence within organisations it was straightforward to define. It was a physical department, normally including a call centre, that dealt with all incoming customer communications (mainly via telephone and letter), and provided help and support. As the number of channels used by customers began to expand, the web, email and social media may have been added to this remit. However, the underlying approach remained the same.
Fast forward to now, and this model is facing unprecedented pressure. Digital channels have dramatically increased the volume and range of incoming interactions, social media has accelerated the need to act quickly and businesses themselves are undergoing rapid change as their markets are disrupted by new technologies and new ways of working. The customer journey spans multiple channels and departments and consumers are much less forgiving of a poor experience or service.
This change is constant and continuous. Indeed, as customer experience strategist and author Martin Hill-Wilson points out, "the impact of digital puts us all into a state of perpetual beta." There's no such thing as business as usual – organisations need to be agile, flexible and able to change quickly as customer needs evolve.
Unfortunately, the majority of organisations aren't structured in a way that delivers this agility. Since the Industrial Revolution companies have been split into multiple departments, all with responsibility for their own activities, and often fiercely protective of anything that feels like an attack on their independence and power. This silo-based approach simply doesn't fit with the needs of today's consumers and businesses, particularly when it comes to the customer journey.
So, how can organisations change how they operate, break down silos and provide a joined-up experience? Martin Hill-Wilson believes the solution is to create a customer hub, which he defines as "housing every competency needed to operate aligned customer engagement; steered by real-time analytics and leveraged through agile change management and stakeholder collaboration." The skills contained include sales, marketing, customer service, analytics, change management and collaboration – all within the same team, rather than simply scattered across the organisation. This removes the 'them and us' mentality that can exist between departments, fostering teamwork, a positive culture and consequently faster, higher performance that benefits customers and the overall business.
As they bring together existing competencies, customer hubs are also a low-risk evolutionary path from the traditional contact centre. Companies have the skills already but need to bring them together, preferably in a single location, with a shared approach and focus. This creates a hub of innovation, improvement and competitive responsiveness for the rest of the organisation.
The benefits of the customer hub
Companies that have adopted a customer hub-style approach have seen major benefits. General Motors created a social media centre of excellence that brought together experts from sales, marketing and service. Subsequently, response times to customers that engaged with GM over social channels dropped dramatically from 24 hours to just 1.5, despite nothing else being changed in the process. When Wells Fargo bank located its in-house lawyer within its social command centre, it enabled all outgoing tweets and Facebook messages to be vetted legally much quicker than before. In fact, Wells Fargo is now ten times faster at responding on social media than any other financial services brand.
Martin Hill-Wilson is going to be the keynote speaker at the forthcoming Eptica Customer Day, where he will explain more about customer hubs and how they can benefit organisations of all sizes. To be held on October 8th at the Grosvenor Hotel in London, the Eptica Customer Day will provide an opportunity to hear more around the key issues affecting multichannel customer service, network with and learn from industry peers and Eptica experts, as well as tap into the insight and experience of Eptica's customer base. You can find out more about the Eptica Customer Day 2015 and book your place here. We'll be announcing more speakers and customer presentations in the run-up to the event.
Categories:
Contact Center, CRM, Customer Engagement, Customer Experience, Customer Service, Knowledge Management, Marketing, Mobile, Multichannel Customer Service, Social Media
You might also be interested in these posts: