What does 2015 hold for customer experience?
Published on:
January 07, 2015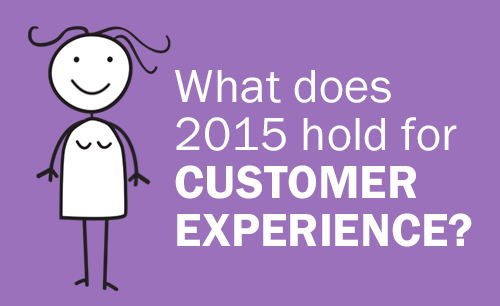 The New Year always bring a plethora of predictions as companies and analysts look at what is likely to happen in the next twelve months across the customer experience market. At the very least it provides a good opportunity to review what businesses are currently doing and gain an understanding of how activities can potentially be improved.
A recent blog from Kate Leggett at Forrester Research provides some interesting predictions, many of which resonate with what I'm seeing in the market. Here's my take on five of the trends she outlines:
1. Customers embrace new channels
Consumers are moving away from the voice channel, with a recent Forrester survey finding that web self-service is now more popular than the telephone. The reason for the rise of web self-service (and other channels such as chat) is down to speed and ease of use – people don't necessarily have time to call to find out routine information and expect it to be simple to find online. Companies therefore need to ensure that they can provide fast, consistent answers via their websites if they want to win and retain business in 2015.
2. Companies will look at proactive engagement
The web gives businesses unprecedented insight into how a consumer is behaving on their website. They can see what pages they visit, what products they look at, and what questions they ask via web self-service. They can also see when customers get stuck, and where they need assistance. This proactive help, normally via web chat, can remove an obstacle in the customer journey and consequently increase the chance of a sale. What is important is to tailor web chat interventions to areas where they will have maximum impact, and to provide agents with the information they need to quickly solve customer queries.
3. The Internet of Things will help deliver proactive service
As we enter an era of interconnected devices, updates and fixes to the electronic equipment around us can be sent automatically when required. This means that consumers don't have to call or email if the electronics on a device goes wrong – it will essentially repair itself. The Internet of Things also provides an opportunity for companies to make service even easier to access – in France electrical chain Darty has launched a connected 'panic button' that triggers a call from a support agent, 24 hours a day.
4. Knowledge management will embrace artificial intelligence
Collecting and sharing consistent, up to date knowledge is central to delivering good customer service. Consequently new ways of improving knowledge management deliver major results in both efficiency and improved service to customers. Techniques such as linguistics are increasingly being applied within customer service teams to understand the exact nature of a digital query and the tone of the communication (such as angry, happy or upset), in order to provide the best answer quickly and seamlessly.
5. Predictive analytics will become more important
Companies face growing volumes of digital interactions, from emails and tweets to web forms and chat sessions. Teams already use rules to route these to the best resource to provide an answer, and this will become increasingly automated in 2015. Incoming interactions will be analysed and then sent onto the best available agent, along with a recommended answer that can be personalised to each consumer. For example, emails can now be analysed for language, tone or specific terms (such as returns or delivery) and immediately forwarded through workflow that monitors speed of answer and customer satisfaction.
Looking at these predictions, many companies are already well-advanced in implementing solutions in some or all of these areas. Consumers are continually demanding more from the businesses they deal with, across every sector. Therefore, if they want 2015 to be a happy and successful year, companies should look at how they can use technology to help them better meet consumer needs now and in the future.
Categories:
Contact Center, CRM, Customer Engagement, Customer Experience, Customer Service, Forrester, Agent Knowledge Base, Linguistics, Chat, Self-service
You might also be interested in these posts: