What does Facebook for Business mean for customer service?
Published on:
April 08, 2015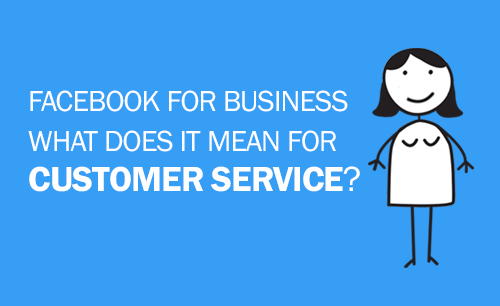 Customers today want to communicate with businesses on more and more channels – and the number is increasing all the time. The last few weeks have seen the launch of multiple new ways of communicating – all of which have the potential to impact customer service.

Firstly, Periscope and Meerkat, two new live streaming services have been introduced. Sitting on top of Twitter, these apps allow users to stream exactly what they see on their smartphone camera, in real-time, to their followers. This provides consumers with the ability to share their face to face customer experiences quickly and easily. So, if they are experiencing poor service in a shop they can back up their words with video evidence that can quickly go viral via social media, impacting corporate reputation.
Secondly, Facebook has announced Messenger for Business, which it touts as a way for companies to communicate naturally with consumers through social media. Featuring the ability to chat in real-time, and for brands to initiate conversations, Facebook CEO Mark Zuckerberg sees it replacing channels such as the telephone for customer service. The company is also opening up Messenger to make it easier to integrate into third party applications.
Whatever the eventual success of these new channels, businesses need to continually check the market and ensure that they are providing their customers with the ability to contact them on their channel of choice. At the same time, despite the claims, traditional channels continue to be used, either because they fit people's needs or because they are easy to use. Many customers still communicate with brands by letter and even fax. Rather than channels being replaced, more choice tends to lead to more interactions, across more channels than ever before. And adding a new channel isn't always easy as it can involve a steep learning curve, potentially requiring staff with different skills and the implementation of new technology.
So how can businesses cope with this growth, particularly at a time when resources are constrained? Here are 4 areas to focus on:
1. Think strategy first, channels second
Simply adding new channels doesn't make the customer experience better. In fact, stretching resources across more activities can make things worse, lengthening the time it takes to respond to queries and thus annoying customers. This has been shown by the latest results of the Eptica Multichannel Customer Experience Study, which surveys the responses of leading UK brands across different channels. While answers on Twitter improved between 2014 and 2015, response rates on email dropped by an identical amount, leading to no overall change. As customer service expert Christine James puts it, "if your customer service sucks, Facebook can't save you". Take a step back and look at your overall strategy first, and map the customer journey to ensure you are providing the experience that consumers want. Then look at how this works across different channels and integrate them into your overall approach.
2. Avoid silos
Often when companies embrace new channels such as Twitter and Facebook, they are run by different teams, such as marketing or PR, rather than the customer service department. Obviously social media cuts across a whole range of activities, from sales to building brand reputation, so companies need to take a cross-departmental approach to managing the likes of Twitter and Facebook. Establishing clear processes and ensuring that tweets are forwarded internally to the right department is crucial to providing a consistent, silo-free and efficient service, whatever the query.
3. Centralize knowledge
To be effective across multiple channels companies need to ensure that they are giving accurate, fast and, above all, consistent answers. This requires a single, centralized knowledge base that can be accessed across multiple channels – such as directly by a consumer through web self-service or a portal on a Facebook page, or by agents when they are answering telephone, email, chat or social media queries. Having one knowledge base is also much more efficient than creating stores of information for every channel – keeping multiple knowledge bases up to date is expensive, time consuming and breeds inconsistency.

4. Use technology to help
Unlike the telephone or face to face, digital interactions are notoriously difficult to understand as neither party can rely on verbal or visual context. This is backed up by recent Eptica research which found that a lack of understanding of their emails, tweets and chat messages was the single biggest frustration for UK consumers. 78% ranked getting a response that either partially, or completely, failed to answer their question in their top two biggest frustrations, while 31% said that failure to acknowledge upset or anger was a major issue. Companies need to look at investing in technology, such as linguistics, to help bridge this understanding gap and provide the assistance that customer service agents need.
The rise of new channels is now a fact of life for all organizations – and there is no doubt that Facebook Messenger for Business, Meerkat and Periscope won't be the last channels to be introduced. To succeed in this multichannel world companies therefore need to take a holistic, centralized approach in order to understand and serve their customers.
Categories:
Customer Service, Customer Engagement, Customer Experience, Linguistics, Social Media
You might also be interested in these posts: