What's the state of digital customer experience in UK banking?
Published on:
May 26, 2015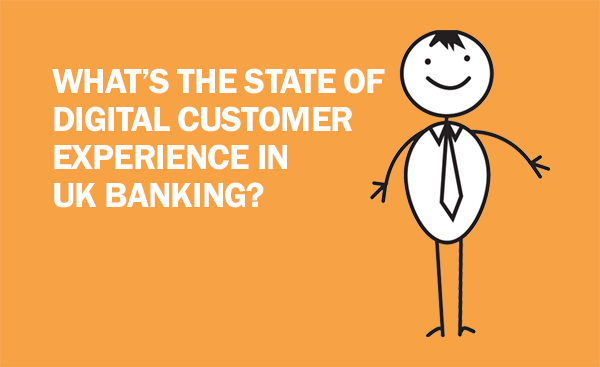 The reputation of banks with consumers has suffered a dramatic fall in recent years. Branch closures, misselling cases such as those around PPI and, of course, the part that banks played in the financial crisis have all contributed to low consumer trust in the sector. At the same time the UK government has made it much easier for consumers to switch providers, attracting new entrants to the market. This has contributed to a record 1.1m UK consumers transferring bank accounts last year. At the same time entry regulations have been relaxed to enable new players to join the market, fueling greater competition. As well as driving banks to develop new banking products and services, these two trends put the spotlight on customer service, forcing brands to work harder to win and retain customers.
Fewer customers visit branches today, meaning that much retail banking is now conducted by telephone or, increasingly, online. Consequently for many account holders interactions with their banks are predominantly through digital channels. Indeed, at a time of low interest rates, many consumers are picking their bank based on how easy it is to interact with them online and through mobile devices.
Given this move, how is the UK banking sector doing in terms of delivering a joined-up consistent level of service to potential and actual customers?
To find out Eptica recently assessed the online customer experience delivered by 10 UK retail banks. Part of the annual Eptica Multichannel Customer Experience Study, the study evaluated the brands' ability to provide answers to ten routine customer questions through the information displayed on their websites as well as their speed and accuracy of information delivered when responding to incoming email, Twitter and web chat queries from customers.
The results indicate that the banks have invested heavily in customer experience, but that they are a long way from being truly multichannel.
On the web – banks deliver an impressive performance
The banking industry's performance on the web was the best of all the sectors analyzed in the study. An impressive 91% of all the routine customer questions we asked as part of the analysis were answered on banks' websites, up from 64% in 2014. Five out of ten banks answered all ten questions successfully and even the poorest performing bank website scored 6.5 questions successfully (giving a partial response to one question).
Extremely poor performance on email
The email channel fared much worse, with just two of the ten banks in our study offering email to non-customers. At a time when switching account has never been easier this removes a valuable sales channel, as potential customers cannot get answers when researching where to put their money.
Only one of the two banks with email was able to fully answer the question sent to them, with the response taking 17 hours 34 minutes to arrive. The overall poor performance gives the impression that email has been switched off by banks, with resources deployed elsewhere – hardly the best way to attract new customers.
Twitter response – fast but not always accurate
On Twitter, banks seemed to favor speed over substance, with all six brands that had a presence on the channel responding within 21 minutes, making it the fastest sector in the Study, with an average time of 18 minutes. However just one of these successfully answered the question, with three giving partial answers, that meant a consumer would need to re-contact them through another channel. These findings indicate that more work is needed on backing up speed with knowledge on social media.
Chat not seen as a priority
Only one of the banks evaluated had chat available for visitors, a surprising omission as it provides a straightforward way for consumers to interact with a bank. Additionally as it provides a written audit trail of every conversation it is well suited to a complex, highly regulated market such as banking. Chat is also more efficient than the telephone channel as agents can manage multiple chats at the same time.
On the positive side the bank that offered chat was able to successfully answer the question asked, even though they failed to respond to the same query on either email or Twitter.
One of the goals for brands in the digital arena is providing a consistent customer experience across multiple channels. Unfortunately banks seem to be failing in this regard: just two brands in our analysis provided consistent answers over two channels, with 30% not answering on email, Twitter or chat at all. No bank offered the ability to be contacted on email, Twitter and chat.
Banks seem to be focusing solely on the web, rather than delivering the rounded, multichannel experience that customers want. At a time when there are increasing numbers of new entrants in the market, and greater customer churn, this risks dissatisfied customers switching their accounts, hitting bank revenue and profitability.
Categories:
Chat, Contact Center, Customer Engagement, Customer Experience, Customer Service, Email Management, Finance, Multichannel Customer Service, Social Media, Self-service
You might also be interested in these posts: