Where are the UK's Chief Customer Officers?
Published on:
April 06, 2016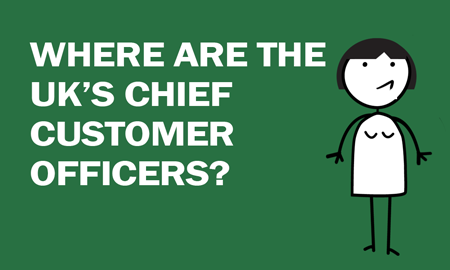 The combination of growing competition and more demanding consumers means that customer experience is now recognized by businesses everywhere as crucial for success. Analyst reports back this up – research from Forrester found that companies with superior customer experience demonstrate improved revenue growth, while Gartner analysis predicted that by 2016 89% of companies expect to compete on the experience they offer.
Given their importance, customer experience programs have to be led from the top, with senior management heavily involved and setting a strong strategy for the whole organization to follow.
Therefore more and more global organizations are turning to Chief Customer Officers (CCO) to lead this part of their business. Defined by the Chief Customer Officer Council as "an executive that provides the comprehensive and authoritative view of the customer and creates corporate and customer strategy at the highest levels of the company to maximize customer acquisition, retention, and profitability," the CCO role is different from other jobs such as Customer Service Director or VP of Service for three key reasons:
They are independent and not part of any one department or division
They are senior, with a seat on the board and a direct reporting line to the CEO
They have the skills, responsibility and understanding to make them the ultimate authority on a company's customers, coming up with strategies not just to retain existing business, but to drive new revenues.
The UK picture
Yet new research shows that few leading UK companies have a CCO, or equivalent, on their boards. Analysis by PeopleTECH found that just 1% of FTSE 100 companies had a CCO, while none of the FTSE AIM 100 index of fast-growth businesses employed one. 15% of FTSE 100 companies did have someone on the board with a specific customer-focused remit as part of their role, but not as a CCO. Indeed, most CCOs seem to be at a lower level – 11% of FTSE 100 companies had a Chief Customer Officer on their senior management teams or executive committees, meaning they are not involved in board level discussions.
At a time when more and more markets are becoming global, this means that the UK's biggest businesses risk lagging behind their counterparts in other countries. For example, according to Forrester in the US 75% of CCOs are part of their company's senior management team.
What can UK organizations do to fill this gap? The key is to focus on two main areass:
1. Skills
One of the issues holding back the rise of CCOs globally has been the wide range of skills the role requires. They need to be able to understand all parts of the customer journey, so have to be experienced in a wide range of disciplines, from marketing and sales to customer service and digital, while having the seniority and strategic knowledge to drive major change. Companies therefore need to ensure they are putting in place the necessary training to fill in any knowledge gaps in their senior customer experience leaders, enabling them to make the jump to the CCO role.
2. Responsibility
As the PeopleTECH analysis shows, very few organizations have a CCO in place. Obviously, not every company is big enough to afford to employ one, but larger businesses should look at the benefits they bring, and see how they can reshape their organizational structure in order to attract and retain a CCO. At the very least they should look at who has responsibility for customers and their needs at board level.
The benefits of a CCO, including growing the customer base, enhancing profitability, increasing loyalty and turning the customer base into a business asset, are all vital to success in today's markets. Organizations therefore need explore how a CCO could help them win and retain customers, and boost revenues going forward.
Categories:
Trends & Markets
You might also be interested in these posts: