Why improving email performance is vital for customer service success
Published on:
January 23, 2015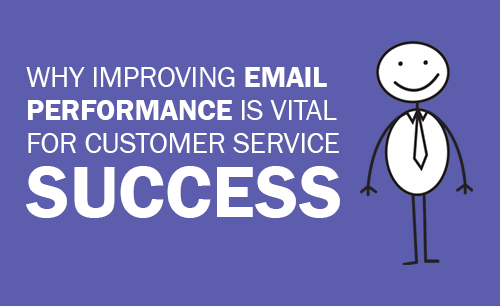 Delivering superior customer service is an increasing challenge for all. Companies need to cover more and more channels while meeting continually growing demands from consumers, often with no corresponding increase in budgets. No wonder that the temptation can be to re-allocate scarce resources away from traditional channels such as email in order to focus more heavily on the likes of social media and web chat instead.
However, cutting email resources, or making it difficult for consumers to contact you through this channel, ignores two key points. Customers - across all demographics - like the written audit trail and flexibility of email and as a result, rather than dying out, this means that more and more emails are sent year on year. In fact, there are 144.8 billion emails sent every day – and mobile devices account for over 50% of these. According to Forrester, 58% of customers want to communicate with brands by email.
Still, companies do face significant challenges responding to the growth of email. A midsize organisation can receive 250,000 emails every year – that's nearly 700 a day. Providing a fast, accurate and consistent answer is therefore both business-critical and complex to achieve. A recent interview between my colleague Laurence Chami and Customer Experience expert Adrian Swinscoe looked at the factors driving the email customer service channel and how they vary from country to country. You can listen to the podcast of the interview here.
So, what is the solution? There is no magic bullet, but from Eptica's experience there are five areas to focus on if companies are to better manage the email channel:
1. Deflect what you can
While many people use email as their channel of choice, others only switch to it when they can't find basic information through other means, such as on a company's website. Therefore make sure you provide the right information online, such as through web self-service systems, to minimise emails that are unnecessary for both the customer and the company.
2. Automate the workflow
Instead of simply collecting all incoming emails into a single queue and then passing them to agents one by one, use intelligence to route them to the best available employee to provide a fast answer. By analysing incoming interactions and looking at factors such as language, type of product and even sentiment, they can be prioritised and passed to the agent with the best skills to give a helpful answer.
3. Provide a consistent response
Many companies struggle to deliver a quick response to emails, as each answer is created by hand, by individual agents. Not only does this lower productivity, but it also breeds inconsistency. Create a centralised Knowledge Base that contains approved information for agents to use and build templates that are automatically suggested dependent on the query. This speeds up response times while still allowing agents to personalise each email to the needs of the individual customer.
4. Manage the process
Answering emails has to be turned into a well-drilled process, with the technology able to support and manage the entire lifecycle. Desktop email systems simply cannot cope with large volumes of messages, can be difficult to manage across teams, and don't have any built-in management tools. Therefore, consider putting in place an end-to-end platform with in-built workflow to replace desktop email if you want to take back control of the process and improve service levels.
5. Set targets – and stick to them
As with every channel, customer expectations are continually rising. Research by Forrester found that 41% of consumers expect a response to their email within 6 hours. However, in our own Multichannel Customer Experience Study just 18% of companies delivered within this timeframe. Even worse, many businesses failed to keep their own promises – announcing how long they would take to reply and then comprehensively missing their own targets. Be realistic when setting expectations, but at the same time be sure that they are not too long as to be meaningless to consumers.
Last year email celebrated its 32nd birthday – rising volumes demonstrate that as it ages, it is vital that it still seen as a central part of every businesses' multichannel customer strategy.
Categories:
Contact Center, Customer Engagement, Customer Experience, Email Management, Forrester, Agent Knowledge Base, Linguistics, Multichannel Customer Service
You might also be interested in these posts: