The widening UK customer experience gap
Published on:
September 30, 2015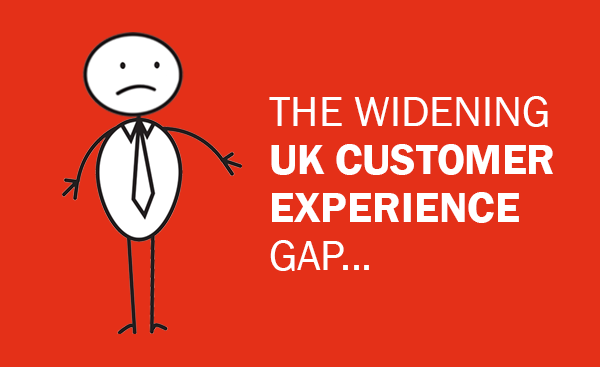 In previous decades an organization's brand was something it controlled, with how it was perceived in the market driven by expensive advertising and marketing campaigns. The rise of social media and increasingly demanding customers has changed all of this. In highly competitive markets brand reputation and values are built on the experience that consumers receive and share on social media. The balance of power has changed – your brand is what your customers say it is, rather than how you define it within your organization.
This makes the customer experience vital to building and developing brand values – annoy enough consumers through poor service or behavior and your reputation will suffer, perhaps fatally. On the positive side, brands can differentiate themselves and grow by offering a superior customer experience that meets consumer needs and drives loyalty and increased sales.
Given this importance of customer experience, the recent KPMG Nunwood 2015 UK Customer Experience Excellence Centre report, paints a worrying picture for British organizations. It shows there has been scant change to customer service levels, with no overall improvement since 2013. While some companies are powering ahead, the majority are either remaining static or slipping back. Unfortunately the study, which involved 10,177 consumers evaluating 272 brands, mirrors other research. The 2015 Eptica Multichannel Customer Experience Study found that over half of routine customer questions were not answered successfully on digital channels by top UK brands, with little improvement since 2014. Additionally, the most recent Institute of Customer ServiceUK Customer Satisfaction Index, which covers 39,000 consumer responses, languishes at 76.2 out of 100 – in January 2013 it was 78.2.
As well as reputational damage, the KPMG Nunwood study points out the financial cost of poor customer experience. Top 10 companies added an extra £43 million to sales every year over the last 5 years, compared to positions 11-100. And companies in the top 100 had double the revenue growth of the overall FTSE 100 stock market index.
Clearly, there are multiple imperatives to ensure that customer experience improves, and the report outlines five themes that businesses need to act upon. These are:
1. Customer experience is the new branding
As detailed above, how customers perceive your company is central to your brand reputation. This means that a company has to stand for something, and deliver on its promises, in every interaction. So all touchpoints, and all staff, have to match brand values and deliver a consistent experience that matches consumer needs.
2. Omni-channel is everything
Customers use channels interchangeably, and expect to receive an integrated experience however they make contact, even if they change channels part way through an interaction. As the report points out many UK organizations originally developed new channels, such as the web, as separate additions to their existing operations, leading to a silo-based structure that made omni-channel difficult to implement. This is changing as customer demands are driving a more flexible, cohesive architecture that brings every channel together, without silos.
3. Experiences must be re-humanized
In the past customer service was seen as a cost center, not a point of differentiation. This has led to a focus on efficiency and speed when it comes to the customer experience, with interactions that may answer a consumer's question, but do not show any personality, empathy or reflect the overall brand. This isn't easy – understanding what customers are actually saying and their tone of voice is notoriously difficult on digital channels such as email and social media, but is vital to differentiate from the competition. Technology can help, with techniques such as linguisticshelping agents to better understand digital interactions and therefore enabling them to provide more personalized, empathetic responses.
4. Knowledge management ensures success
Successful organizations are built on knowledge – both of their customers and of the products and services that they offer. This means that they can deliver a consistent, personalized experience, across every channel, and even use customer feedback and previous consumer behavior to deliver new products. Key to this is having a central knowledge base that runs across all channels, and can be accessed and updated by customer-facing staff. This delivers consistency and allows staff to focus on the customer relationship, empowered by information.
5. UK Plc is being outperformed globally
A previous KPMG Nunwood report found that leading US companies are five years ahead of their UK peers. This means the average US consumer is 10 times more likely to have an excellent experience compared to their UK counterpart. In an era of globalization, with the internet making it much easier for companies to sell around the world, this potentially spells trouble for UK laggards. Fail to improve or consumers will have no qualms about moving to overseas competitors.
The customer experience has never been more vital – and, as the KPMG Nunwood report shows, it is now time for UK companies to focus on improvements if they want to boost both their brands and their bottom line going forward.
Categories:
Agent Knowledge Base, Contact Center, Customer Engagement, Customer Experience, Customer Service, Knowledge Management, Linguistics, Multichannel Customer Service, Social Media, Top 2015
You might also be interested in these posts: