You are here
Date : 12/02/2015
U.S. consumers unhappy with Holiday retail customer experience in store and online
Eptica research also finds 23% buy via their smartphones when in store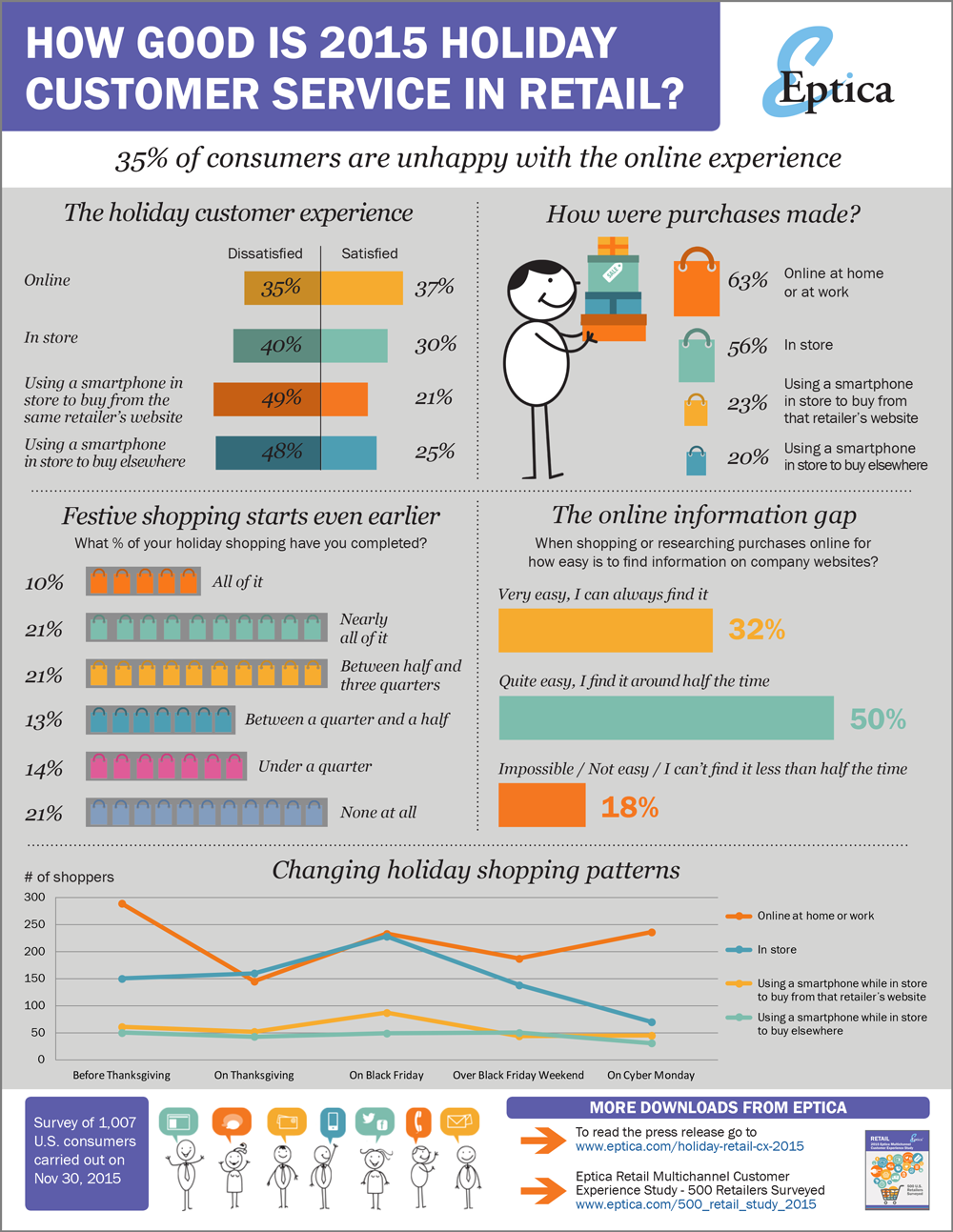 BOSTON, Mass, December 2 2015 – Despite enormous investment, U.S. consumers are unsatisfied with the levels of customer service offered by retailers this Holiday season. Over a third (35%) are unhappy with the online experience, figures that rise to 40% in store. 18% of consumers complained that it was impossible or extremely difficult to find the information they wanted on retailers' websites, according to new research from multichannel customer engagement solutions provider Eptica.
Released today, the 2015 Eptica Retail Holiday Customer Experience Study surveyed the customer experience around Holiday shopping, particularly Black Friday and Cyber Monday. According to the study's findings, while the majority of consumers bought online (63%) or in store (56%), they are increasingly using their smartphones in store to make purchases. 23% bought from the website of the retailer they were in, but one fifth (20%) purchased from a rival. This highlights the opportunity and threat of 'show-rooming', where consumers check out products in a store and then buy from companies that offer a better experience. Nearly half of those that bought in store via smartphones complained about the service – 49% in the case of those purchasing from the retailer they were in, and 48% if buying from another company. This shows the importance being able to provide the right information at the right time to customers to help them move swiftly through the purchasing process, whatever channel they are using.
Other key findings from the research were:
37% are extremely satisfied with the online experience, with 35% unsatisfied
40% are unhappy with the experience in store, with 30% extremely satisfied
49% are dissatisfied with the experience when buying from a retailer on their smartphone when in one of their stores
"Holiday shopping patterns seem to be in a state of flux, with some consumers still embracing Black Friday and Cyber Monday, but others spreading their purchases over a wider timeframe," said Olivier Njamfa, CEO and co-founder of Eptica. "What is shocking is that whatever channel they choose, and whenever they shop, so many consumers are unsatisfied with the service they receive. At such a vital time of year, retailers need to fix this if they are to win and retain customers and guarantee strong revenues over the Holiday period."
Shoppers are also taking a balanced approach to Holiday shopping. While 24% bought items online on Black Friday and Cyber Monday respectively, 37% didn't make any purchases before the end of November. In fact, 21% said they hadn't started their Holiday shopping at all, with a further 14% completing under a quarter of their planned purchases. 1 in 10 organized Americans had finished shopping, with another 21% having completed over three quarters. This demonstrates two things. Firstly, that retailers need to ensure that they have the resources and technology in place to deliver fast, accurate service throughout the Holiday season, rather than just around Black Friday. Secondly, they need to invest in multichannel systems that can help customers on their channel or device of choice.
Showing the rise of Thanksgiving as a shopping day, 18% of consumers bought items in store and 15% bought online. 29% had bought their items online before Thanksgiving and 17% had purchased in store over the same period.
Consumer dissatisfaction backs up the recently released 2015 Eptica Retail Multichannel Customer Experience Study. This evaluated 500 U.S. retailers on their ability to provide answers to routine questions via email, the web, chat, Facebook and Twitter and found serious failings in the customer experience. For example retailers could only answer 20% of questions sent via Twitter and 54% of Facebook messages - in contrast, they replied successfully to nearly three quarters (73%) of emails received. Only around two thirds (65%) of answers to routine questions could be found on company websites.
The 2015 Eptica Retail Holiday Customer Experience Study is based on consumer research conducted by Toluna with 1,000 American shoppers on November 30 2015.