5 top priorities for today's contact centers
Published on:
April 25, 2019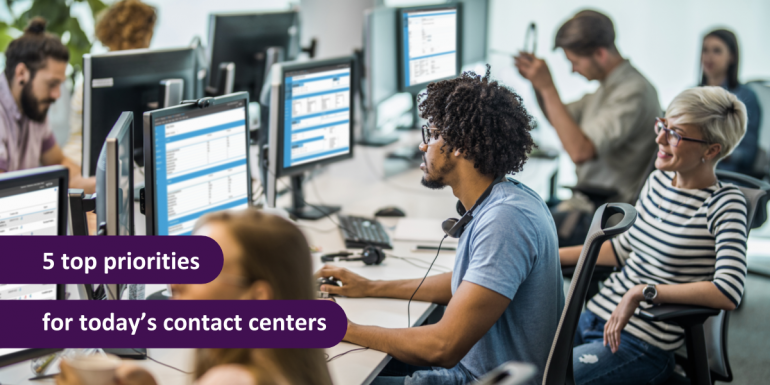 The last 25 years have seen the rise of contact centers, both within organizations and in the public mind. Demonstrating this growth, 2019 sees industry association the CCMA celebrate a quarter century of success, supporting the sector as it has grown dramatically.
As contact centers, customer service and customer experience have become central to business success, so has our understanding and benchmarking of performance. A key source of information and insight about the sector has been analysts Contact Babel, which has published multiple editions of its Decision Makers Guides, based on real-world interviews with contact center managers in the UK and US. It recently published its latest UK Contact Centre Decision Makers Guide, along with a detailed report about AI in customer service.
What do these two latest reports tell us about the state of the sector today? Based on our analysis, here are five key insights.
1. AI shows promise but is not yet fully adopted
Just 13% of UK- based contact centers say they have deployed artificial intelligence today. However, many more are looking at - over a third of respondents stated that they definitely intend to use AI and Machine Learning in the future.
The report highlighted areas such as real-time speech analytics and Robotic Process Automation (RPA), alongside chatbots, text analytics and Natural Language Processing (NLP), which will substantially impact the contact center. They are expected to bring benefits such as improving understanding of customer behavior and enabling improved, faster service from brands.
2. Trust is key for CX and the basics are important
Getting the basics right is essential to building trust. Factors such as "first-time resolution", "issue handled by a single employee", and "short queue times" were all listed among the top reasons for trust and loyalty from consumers in the Contact Babel's report.
This backs up UK consumer research in the 2019 Eptica Digital Trust Study. 59% of people who were polled ranked "giving satisfactory, consistent answers" as one of the top 3 ways that brands would earn their trust.
Both these reports show that 25 years on, customer service may have transformed into CX, but getting the fundamentals right is still all-important. Companies need to use technology, including AI, to improve and meet constantly rising customer expectations, while still offering a human, friendly service.
3. Silos are holding back performance
One of the enduring challenges for the industry remains the problem of silos, between channels and departments. 66% of contact centers questioned by Contact Babel said that a siloed approach between different channels within their organization affects the quality of the customer service they provide.
This is also underlined in Eptica's study, which finds that a lack of consistency between channels is an ongoing problem. For example, 58% of companies provided inconsistent answers to routine customer questions on different channels. Only one company answered successfully on four channels, across email, chat, Twitter and Facebook. Speed of response also varied wildly - one insurer answered on Twitter in 6 minutes, but then took over 17 hours to provide an answer to the same question via email.
All of this points to a need to create a joined-up experience across all channels, integrating channels and sharing knowledge to deliver a consistent, high quality and fast experience.
4. People are vital
Technology, particularly AI, can do a great deal to drive improvements in the contact center. However, experts such as Ryan Buell, Associate Professor at Harvard Business School, stress that there needs to be balance between technology and the human touch. This comes down to fundamental human traits - we are inherently social creatures who gain emotional value from seeing and interacting with one another. That means amidst all the talk of the power of AI and other emerging technology, you need to be sure it is used to support and augment your agents.
Demonstrating this, 83% of the respondents to Contact Babel's AI report said customers have a need to move from self-service to live agent for reassurance – while 92% need to move to a human agent because their query is complex. Therefore, ensure you are supporting agents, for example by using AI to analyze incoming messages and providing suggested answers and templates to them.
5. A move to focus on the customer
Over past few years, measurement has moved from time and cost metrics such as speed to answer, first call resolution and cost per call to more customer-focused metrics such as Customer Satisfaction (CSAT) ratings or Net Promoter Score. In fact, these satisfaction metrics are the number driver of strategic decision making in the contact center according to Contact Babel - ahead of the need to reduce costs. This goes hand in hand with a greater need for personalization while dealing with larger volumes of enquiries. Key to this is use AI to support self-service where you can, as well as to better analyze and understand customer conversations, and so deliver a better experience.
Over the last quarter century, customer service and CX have grown in importance and this trend is accelerating. As the latest reports from Contact Babel suggest, it is essential for the sector to both embrace technology such as AI and create a balance between live agents and technology. Because one thing hasn't changed in 25 years – basic factors such as politeness and providing fast, accurate consistent answers remain essential in order to build trust and loyalty, now and in the future.
Categories:
AI, Trends and Markets, Artificial Intelligence
You might also be interested in these posts: